One of the stirring images in my head from my behind-the-scenes experience for the Western Michigan game was the post game experience re-entering a quiet Michigan stadium, filled with trash and the occasional seagull.  Recall this photo: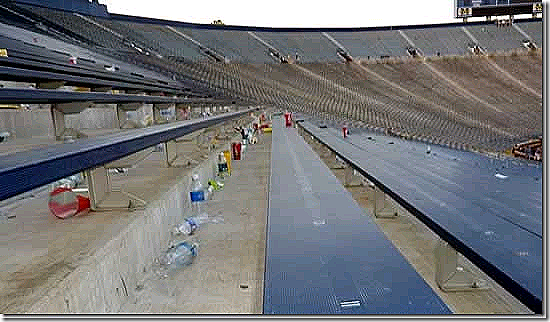 No doubt inspired by my recap (not really), prestigious author, lecturer and raconteur John U. Bacon picked up from there and wrote about what goes on in the stadium when the fans aren't packed inside.  For starters, Bacs explains how all that junk gets clean up in his piece for Michigan Today:
For starters, the day after a game more than 300 people converge on the Big House to transform 450 overstuffed 55-gallon trash-cans and 300 recycling containers filled with plastic bottles—a total of about 15 tons of refuse per game—into 72 cubic feet of compressed trash. This mother lode fills three dump trucks, plus another truck for plastic bottles.
Check out the entire piece here.