For good reason we spend so much energy talking offense and defense, but you have to take a moment and acknowledge what happened with the special teams unit on Saturday. Offhand that was most complete special teams performance I can recall and if not, definitely the most significant as it relates to the outcome of a game. In the slippery & windy conditions, to cleanly execute all those kicks (save the long FG), punts, catches and coverage during the game was exceptional. If Northwestern blew this game by not hanging onto the ball, the difference for Michigan was the play of special teams.
The coaches of have taken a beating since week 3 so give STC Ferrigno and Hoke major credit for the military-style discipline and execution by the special unit throughout the game…all the way to the wire:
Hoke called that one of the best single football plays he could remember. While we've seen several ridiculous individual plays over years (and Hoke was there for the best–Woodson's '97 pick at MSU), based on the number of variables that had to cleanly function and fall in place in those few frantic seconds it's hard to argue with him. You've heard now that Michigan practices that every week, & Gardner joked postgame that he appreciated that they finally got to use it after all the time spent working on it. Credit Hoke for having those guys prepared and credit the 16+ players involved to make that happen. Misc:
Poor Fitz – Man, it's hard not to feel for Pat Fitzgerald, especially after I got to know that cat a little better via Fourth and Long. This season has been a disaster for him and of course Michigan's done a number on him a few years in a row now. I don't know how many times his team dropped the ball, but there had to be at last 5 bungled interceptions including a few that would have been certain pick 6s –and one absolute gimme in overtime that would have won the game. On top of that, Funchess' fumble in overtime looked to be sitting right there for Northwestern to end the game but somehow #87 got it back.
Fitz, for a couple reasons you are hereby forgiven for the Fitzspaz dance last season: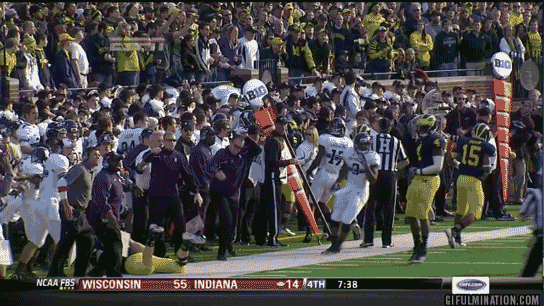 Mood: Sure, it says something that beating a winless divisional opponent can boost our collective spirits but today, say it with me—–> it's better-than-a-kick-in-the-giblets…TO BE…A MICHIGAN WOLVERINE:
Starbutts > I got some great comments on Twitter after I blasted out this pic of the Northwestern uniforms pregame: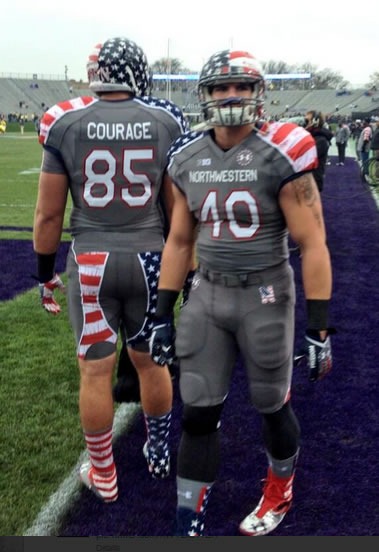 Naturally much of the Twitter snark focused on the star-spangled posterior region. Winner: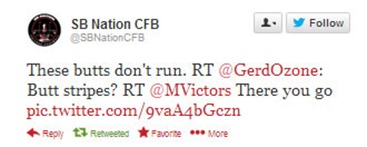 A gem served up by mgo-Ace: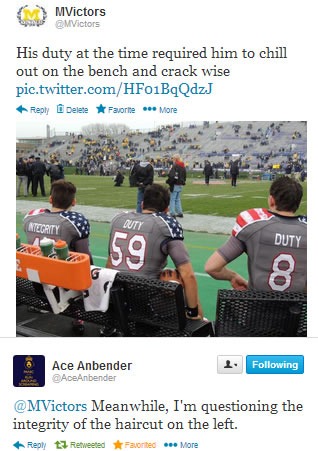 And in another weird chapter of the strange synchronicity that to me, permeates Michigan football [the previous chapter was me, four days after the Michigan State snuff-out riding on a three hour flight back from Florida seated next to MSU DC Pat Narduzzi. Really.] ..check out this tweet from mgo-Heiko:

That of course was a joke…dropped during last season's NW game at the Big House…and it undeniably provided the spark that inspired the 2013 Wildcat butt flag pants.
This guy is thinking ahead for when Michigan and NW meet on the hardwood: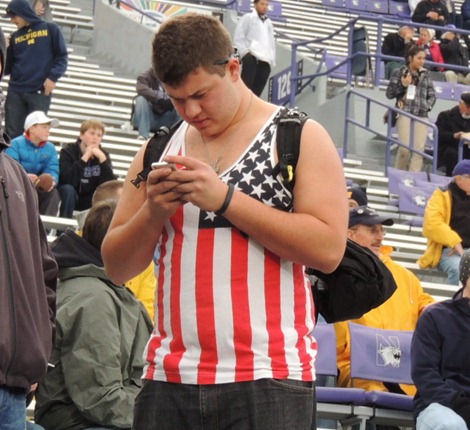 /reading text on his phone: DUDE! SOME DUDE JUST TWEETED OUT A PIC OF YOU IN YOUR SHIRT DUDE
The biggest disappointment of the trip was BTN's J Lehman not rocking "the" tie on this stars-and-stripes-drenched day. He was just about the only thing out there not in red, white and blue.
> Pregame Lore – Yes, it was pregame warm-ups but I'll note it nonetheless. Standing about 4 yards inside the south endzone goal line, backup P/K Kenny Allen punted a ball about 80 yards in the air & after a decent bounce it came to rest about 3 yards in the north endzone.
> History notes from #1000SSS:
• With the win, U-M improved to 9-2 all-time in contests decided by overtime.

• Today's triple-overtime matches the second-longest contest in program history. U-M also went to three overtimes against Michigan State on Oct. 30, 2004 (a 45-37 victory), and vs. Illinois on Nov. 6, 2010 (a 67-65 win). This season's four-overtime game at Penn State on Oct. 12 is the longest game in school history.

• After hauling in 10 receptions for 115 yards, fifth-year senior wide receiver Jeremy Gallon became the 10th player in program history to post 1,000 receiving yards or more in a single season. He is the Wolverines' first 1,000-yard receiver since Mario Manningham (1,174) accomplished the feat in 2007.

• With seven stops at Northwestern, junior linebacker Desmond Morgan has tallied four or more tackles in 25 straight regular season contests.

Fandom Endurance. I feel like I deserve something. Sap?
I started my 4+ hour trek to watch two struggling teams at 8:33.5 AM Saturday (as witnessed by my MaraWatch, left) drove to Evanston, called the Gibby kick good, covered the postgame, posted some blurry photos, weaseled out of Chicago via Lake Shore Dr. and drove back home. I pulled back in my driveway at around 1:20AM Sunday. Badge me!
My blogger brethren (who collectively wussed out and didn't go to the game and therefore no badge for you):
Maize & Blue Nation – Michigan 27 Northwestern 19:
mgoblog – Ace "Thank you, Northwestern, for being Northwestern."
Touch the Banner – Jeez man:
Fire Brady Hoke? Okay, I would probably never call for a head coach's firing based on one play, but I have rarely been angrier at a single in-game decision than Hoke's call to go for it on 4th-and-2 down 9-6 with a little under six minutes remaining in the game.
I couldn't believe he went for it either.
Maize and Blue News. Five Plays that changed the game.
More from this site:
Follow MVictors on Twitter