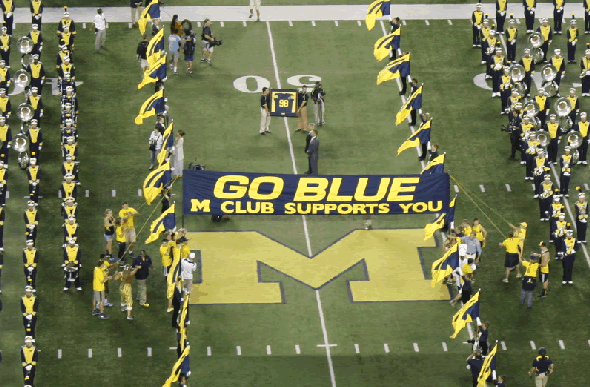 Gathering my game notes I realized there was plenty of stuff specifically on Harmon to warrant its own post, so here you go.
Ole vs. Ol' vs Old 98.  My understanding—it's "Old 98."  Back in the day it was popular to tag things after popular songs.   For example, when Minnesota confiscated the Little Brown Jug in 1903, it was neither little nor brown yet they dubbed it the 'Little Brown Jug'.  Why?  As John U. Bacon has accurately surmised, its named derived directly from the popular folk tune of the same name.   I assume it's the same deal with the Old 98—it's just a play on his jersey number and the popular folk song 'The Wreck of Old 97' which has been recorded by a pile of artists including Johnny Cash.
Old Number 6?   Those in the crowd might have seen this shot on the scoreboard.  The great Old 98 donning the Number 6 and 105,109 heads were scratched: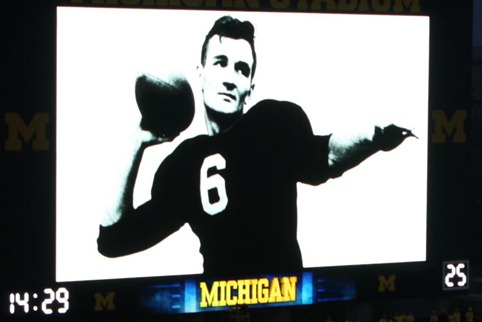 I got into this a little bit here back in '08, but I believe this photo is likely from the preseason Harmon's sophomore year of 1938.   It looks like there was a media opp to shoot the team and you can see him wearing the #6.  My guess—something happened to Harmon's regular jersey, perhaps torn in practice, and so they found him another that fit for the media to see.   In 1938 the #6 jersey belonged to John H. Kinsey, a halfback from Plymouth, MI who happened to be Harmon's exact height and weight—6'0" 194 pounds.   I'm guessing Kinsey was wearing a barrel or sandwich sign on this day.
Representing.  Tom Harmon California license plate "9T8" was also flashed, gotta love it.  Sorry that's the best I have: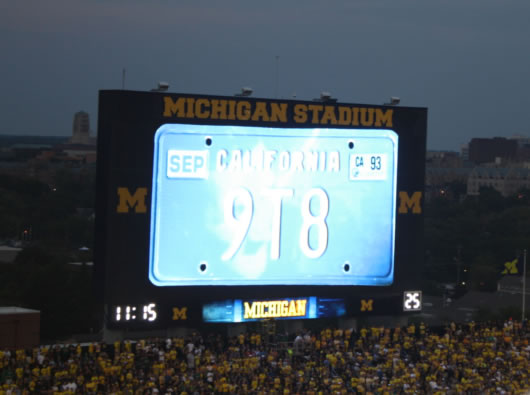 The Video Package  I thought #1000SSS did an outstanding job with the Harmon video package—it stressed more than just the on-the-field highlights and got a look into the man's life.  Well done.  On a personal note feel like I'm heavily invested in all of this stuff and I watched it upstairs from the photo deck (lead photo from up top).  It might have been the breeze but I got chills. Only nit?  I still would have squeezed in a couple more clips of his Yakety Sax runs to thrill the crowd (especially the students) like this one:
Celebrity
  So Mark Harmon was in the house of course, I posted
a few shots here
.   Here he is chatting it up with Laura Hoke (maize) flanked by wife Pam Dawber in white.  (No nerds, that wasn't Princess Leia).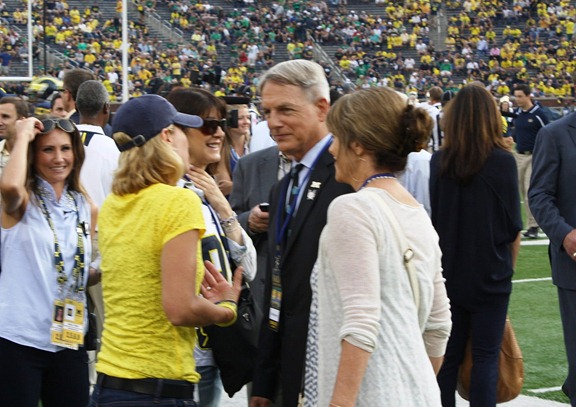 Assume that's the biggest non-sports celeb in the house since Russell Crowe helped out his man Lloyd Carr back in 2007.   Sorry Sanjay Gupta.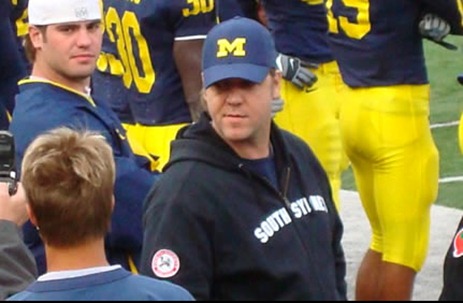 On Gardner  The chalk pick was Gardner to wear the 98 and he did.  Cynical fan will say it's a marketing ploy to sell 98 jerseys (hey – get yours at Moe's!).  Guilty as charged.   But I'm glad it went on the back of a play handling the ball, and forgetting out that little incident in the south endzone, wow…New 98 can handle the ball.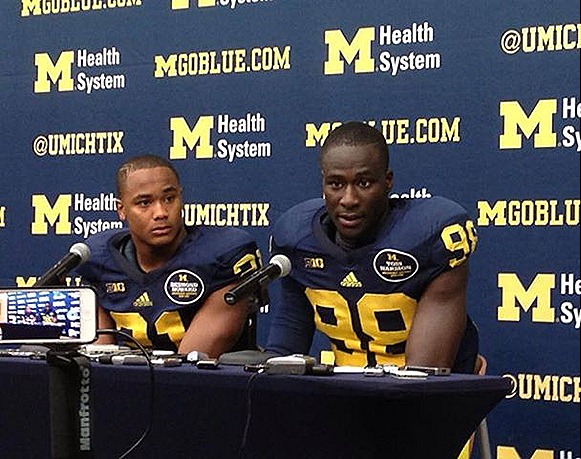 There's Gallon and Gardner, the two Heisman Legends side-by-side in the postgame.
Harmon's Spot in History.  On WWJ during pregame (I'm efforting the audio) I was asked if Tom Harmon is the greatest athlete all-time at U-M.  My answer?  I think that's a distinction that goes to #47 Bennie Oosterbaan based on the dominance he put up across three sports (football, hoops and baseball).   And that's not to take anything away from 98 because as I noted, with Harmon it was a man vs. boys scenario when he was on the field.
It had been 26,586 Days…since the #98 hit the field (and the end zone) back in Columbus, OH November 1940.
Program?  Did you get yours?   Were you chicken…just waiting to see if Michigan won to know if you really wanted a souvenir?  Get yours here.   Again, call me a shill but your $ vote tells the athletic department that you give a crap about this stuff.   While you are in there check out the pieces I wrote on the 1940 Cal trip and game, and my mini-review of the underwhelming film starring Old 98 titled 'Harmon of Michigan.'  

Notre Dame Related:
Follow MVictors on Twitter  (5 Figures?)