Over the past few days I've heard many Michigan fans comparing the 1990s Ed Martin scandal to the Sweatervest mess.   To me, this is much more similar to the events that led to the downfall of former Wolverine star and 1930s head coach Harry Kipke.   There's a reason why we have buildings named after Schembechler, Yost, Crisler and Oosterbaan while the Kipke surname adorns a service road/path on the athletic campus.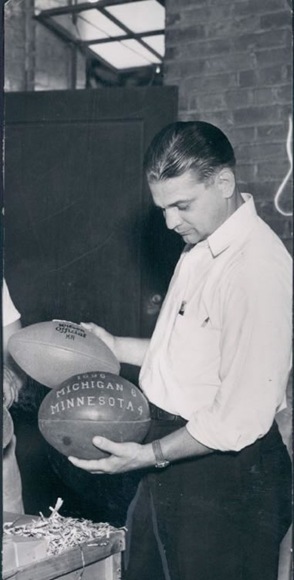 Love this wire pic- on eBay right now
Like Tressel, Kipke had early success—winning league championships in his second and third seasons before taking back-to-back national championships in 1932 and 1933.   Unlike the Vest, Kipke's fortune turned sharply midway through his coaching career including the worst stretch in Wolverine football history from 1934-1936.
While it's not clear to me when the corruption started, it's safe to say Kipke had a bit of a system rolling when he was sacked in 1937.   Along with illegal summer practice up at Ford and some sketchy associates, under Kipke's watch incoming freshman were given "jobs" (note me also doing air finger quotes right now).  
According to a university report players were basically guaranteed a wage at certain jobs whether they showed up or not.  The local employer was "instructed to bill another Ann Arbor firm for the time the freshman collected for not working" [Chicago Tribune, 11/11/37].  The whole thing unraveled when a bogus "employer" wasn't reimbursed in a timely manner and complained.  I'm guessing the potential of one of these nice jobs helped lure Tom Harmon (1930s version of a 5*+ Pryor-esque recruit) from Indiana to Ann Arbor in 1937.  
We'll see what happens to Tressel moving forward.  I hear the NCAA can ban him from associating with a school including Ohio State.  Kipke didn't suffer such a penalty and had a strong backing from Michigan fans after he was canned.  He served on the U-M board of regents from 1940-47 and later served as president of the Coca-Cola in Chicago. Perhaps The Vest can sign on with Bartles & Jaymes.
Yost is Safe
Oh yes, remember this?   Last November I successfully lobbied the Big Ten media office last year to look again at the all-time conference winning percentages by coach, they moved Yost further out of reach from #2 Tressel.   To me, this was the start of Tressel's fall from grace.  And while I'm confident the Vest never would have caught Yost, it's over now baby: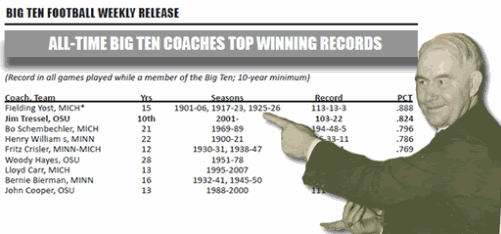 Rest easy, Coach!