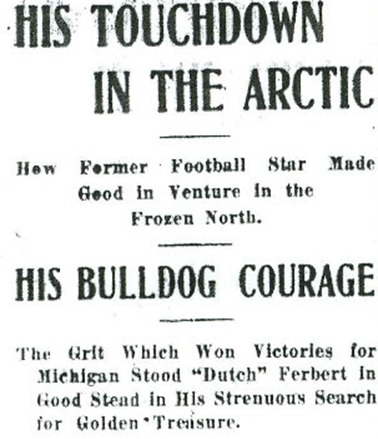 This edition of #TWIMFbH goes back to the 1800s, first to discuss the history of the Alumni Association, then we look at former U-M player and 1899 head coach Gustave Ferbert.  Coaches weren't paid like they are today, and "Dutch" Ferbert actually hung up his whistle to seek his fortune in the Alaska gold rush!
Here's the clip:
TWIMFbH is sponsored by Hillside Terrace of Ann Arbor.  This segment can be heard on the Keybank Countdown to Kickoff and you can listen live on 1050AM in Ann Arbor & on wtka.com around the world.  This segment plays approximately 2 hours before kickoff each week.
You can hear the archive of This Week in Michigan Football History clips here.    If you have suggestions for future games hit me on Twitter @MVictors.  Go Blue!
/script …after the jump
On this homecoming morning we start out with a salute to the U of M alumni out there, especially those who traveled back to campus for today's game.  The tradition of the Meeechigan alumni stretches ALL the way back to 1845 when the eleven graduates that year decided to form a society.  From there its roots spread around the world and its numbers grew until in 1897 the group officially formed the Alumni Association as we know it today.
Well it was just a couple years later and on this exact day in 1899 that many of those alums traveled to Champaign to watch Wolverine head coach Gustave Ferbert and his maize and blue clad troops defeat Illinois 5 to nothing.
Now –  these days the Michigan head coach (and many of the assistants) don't have to look beyond Ann Arbor to become wealthy.  That hasn't always been the case especially in those early days. While Fielding Yost was paid well for the day, it definitely didn't make him a wealthy man.  In fact Yost spent a good part of the year on his private business interests out of town.
In 1899 coach Ferbert probably earned a paltry sum to lead the Wolverines, certainly nothing that would ever make him a rich man.  So after the season 1899 coach Ferbert hung up the whistle, packed his bags and headed to the great white north to join the Klondike Gold Rush.  He promised to "return rich or not all all" before he waved goodbye to Ann Arbor.
So how did he do?  Well, it didn't start out too well.  His friends didn't hear from him for a while and there was some question whether he would make it.   In 1905 he resurfaced and it turns out our man Ferbert MINED GOLD WITH AN ENTHUSIASM UNKNOWN TO MANKIND AND indeed became a rich man.   One paper described how he made "a $1,000,000 touchdown" and hit gold on his righteous claims in Deering City, Alaska.
While I'm not sure Dutch held onto his dough through the years, I'd like to think he did.