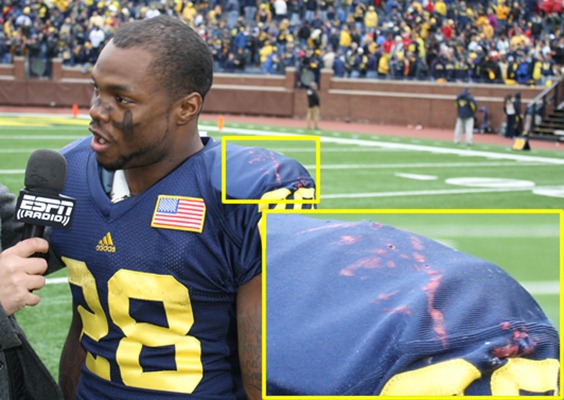 I didn't think anyone put a hand on Fitz all day but he somehow ended up with Herbie Husker blood on his shoulder pads.
The beat down was complete.  Three phases.  Best team performance since Tebow got served in the 2008 Capital One Bowl.  Denard seemed to get that extra gear back and was comfortable in the pocket and for the most part made sound decisions.  The defense ranks squarely in the top 20 in the country, and inside the top 10 in scoring defense.
That numb feeling you've had each of the past few seasons is gone.  That fear that the young men donning the maize and blue can't get better as the season moves to November is fading.  They're not only better they are, remarkably, kind of badass.  Wow.  What else can you say?
Ok, fine, some nitpicks:
Losing Contain.  This team is still has the occasional breakdown defending the run on the corner.  It's about contain and 1-2-3:  1) maintain leverage, 2) keep outside arm free, 3) force runner inside.  I'm available for a demonstration, suckers.
Half Management.   It didn't come up in the postgame (and why would it?) but the clock end of the half was poorly managed.  After all the screw ups we still held a timeout at midfield, why not take a shot at the end zone?  Heck, it's not like Treezy and Hemingway haven't shown they can pull down a 50-50 ball.
The Misc:
Good Big Red.  I bumped into a major beer rep before kickoff and he remarked how full the bars were leading up to the game with visiting N fans.   A few even made it down to Saline.  This is a great addition to the Big Ten.  These are great fans, they travel well and are far from a-holes.  Welcome Huskers.
Five Decades of Wojo.  Media Relations made a nice gesture by providing a cake for Wojo's 50th birthday.  Naturally since it was cake and it was free, the media scarfed it before the smoke cleared from the candles, poof:
Classic timing.  James Tobin delivered a nice piece in Michigan Today on the history of the scoreboard at Michigan football games, dating back to the late 1800s.  The paperback version will include a chapter on Saturday's game.
A few more pics:
Love this one: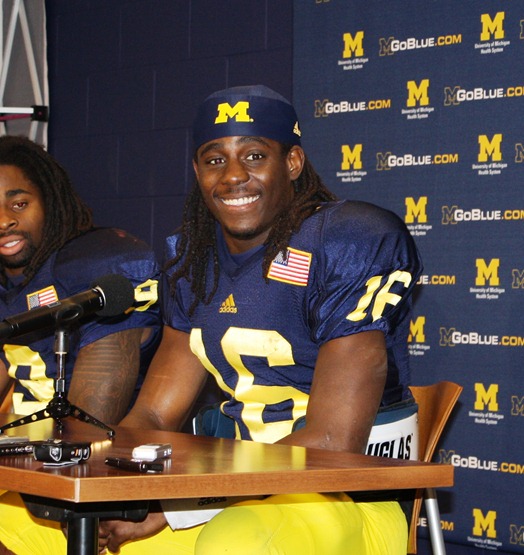 Fitz doing the two-step tango to the house: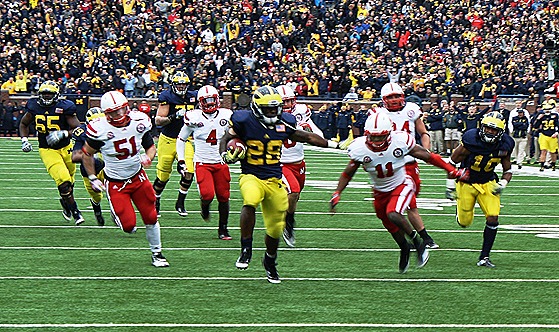 Lloyd Carr leaves the field: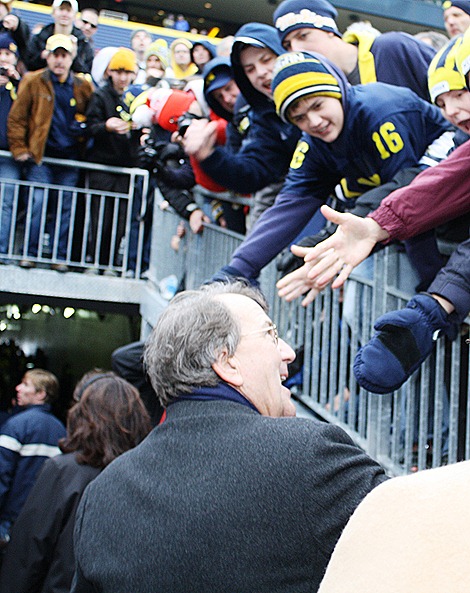 Related:
* BCS for Michigan?  A2.com
* Nebraska Postgame Presser Transcript: Brady Hoke  mgoblog
* Uncle Wojie  Detroit News
Even More: