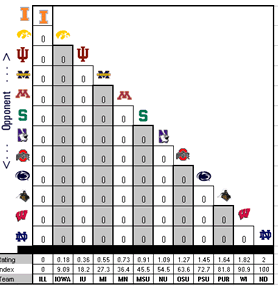 At the suggestion of an MVictors contributor, I'm going to release a weekly index featuring the Big Ten and Notre Dame. While there's many solid polls out there including the excellent BlogPoll, the thought would be that it'd be cool to rate the teams tightly within our purview, while including a couple twists.
After talking with a few guys, we thought it might be cool to rate these select teams in a blend of human polling and computer simulation. Each weekend pollsters will rate each team against the others and assign a simple score:
* '2' indicates Team A would beat Team B in the upcoming week with reasonable certainty (approximately 80% of the time)
* '1' indicates a toss-up
* '0' indicates a loss with reasonable certainty.
Ratings assume the teams would play on a perfectly neutral field (like Ryan Field, har har). The totals are tallied and an index is created using a perfect score (11 match-ups x 2 points or 22 points) and the teams are ranked.
What I like about this:
* Having the Irish rated in the mix of the Big Ten teams. As a Big Ten fan, you know you slot the Irish in your head; now we'll have data.
* I think this beats simply slotting these teams 1-12. The index shows a more detailed level of separation between the teams.
* This removes any bias based upon schedule, either heavy or light (see Iowa, with no M or OSU this season).
* This method also attempts to eliminate slotting based on home/away schedule. The goal is to arrive at the strongest team, not necessarily the team most likely to win the conference championship.
* With the Big Ten Network, the pollsters have a realistic shot at seeing each team play each week if so desired.
* Current pollsters include dudes with various affiliations, from Schlimmy the Bucknut, Biggie Munn the Spartan, Lew the Hoosier/Wolverine and closet USC Trojan, and the Webmaster who is perfectly impartial.
With that, here's the initial preseason poll:


I'll include a few notes each week. For this poll, the pollsters varied most widely on Illinois, with a standard deviation of 15.1. The tightest? The lowly Indiana who ended up #11 in the poll, and that's where we like 'em, with a st dev of just 2.3.
Any feedback appreciated.
I slimmed it down to fit on my sidebar, where it'll reside all season heretofore.