I see there's a little bit of a freak out happening on this whole Forcier/Rodriguez rift nonsense.  Do I think Forcier did and probably said something that pissed off Rodriguez?  Yes, I think so but I think it's more about what he was doing on the field.  TATE!!!!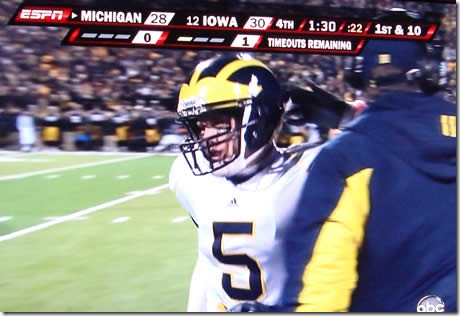 Do I think this will carry over into next week?  No, in fact I'm sure it's already far gone and Rodriguez and Forcier's coach-player relationship will be better for whatever miscommunication occurred.
Do I think Forcier is the absolutely the #1 option at quarterback (despite the depth chart that still lists Sheridan as an "OR" haha)?  For sure.
Will Robinson get more snaps next game?  Sure and I would like to see Robinson get more snaps against Delaware State to get more comfortable.  The last pass was horrible but he's a freshman (look at some of Stanzi's passes- yikes) and it's not like Forcier was having success delivering the ball to the wide-outs.
I'm not concerned about any of this stuff at quarterback, but I can't say that about the Boubacar situation, which Ira and I covered with Andy Mignery and Sam Webb on the WTKA pre-game show Saturday.  More this morning from the Freep but note this is part reporting, part editorial:
CISSOKO OUT? Rodriguez sounded pessimistic about Boubacar Cissoko's future, leaving his suspension open-ended and saying he expects Troy Woolfolk to stay at corner. Maybe Cissoko can work his way back into good graces, but it seems he has a long way to go. It'll be interesting to see whether Cissoko has the desire to change and meet Rodriguez's standards.
Related:
The Rift Reality (Part I, I guess)
My Team is on the Field (looking at the Iowa/RR incident)