[ed 8/21:  I attended today, couldn't take photos and can't talk about it (sorry).  That said, I'd suggest you take the tweets from Mike Stone (@stoney16) with a grain of salt.  I think Stoney got into the Bloody Marys this morning.]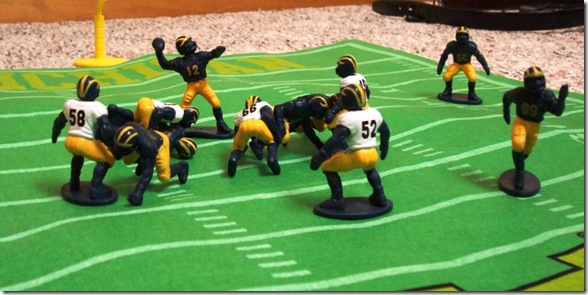 There will be some sort of scrimmage today and yes, a few fans will be in attendance.  From the Freep's Mark Snyder:
While the Big House is usually empty for such events, there could be a few thousand fans today as U-M invited its premium season-ticket holders for a sneak peek.

"We hope whatever they see there will stay there," Rodriguez said Friday on WTKA-AM (1050), conceding that hope might not be enough in the Internet age. "We'll keep things (schemes) close to the vest. We certainly won't show anything that anybody from UConn or the Buckeyes or Sparties or Notre Dame fans will pick up on. We'll keep it close to the vest."
Snyder is correct that premium season-ticket holders can attend, but also invited are folks who donated (at a certain level) to Mott Children's Hospital during this year's Spring game.   All guests today have been instructed not only to be sober, but also to leave their cameras, video equipment at home.