Back in November my pal Buddy Moorehouse of Stunt3 Multimedia (of the Emmy nominated Black and Blue) sent over this note and I had to share. He wrote:
On Dec. 10, 1980, Michigan played Kent State in basketball (I was a junior at the Daily at the time, and was one of the assistant sports editors). A reporter from the Michigan Daily named Mark Fischer wrote the preview for the game. His lede for that story became legendary at the Daily. It was, without a doubt, the worst, most tasteless, most incredible thing that's ever been printed in the paper.

I can't recall the specifics of how this actually made it into print (I wasn't working that night; I'd like to blame this on Drew Sharp). But it caused an enormous shitstorm between the Sports and News departments, and the next day, the News people ran a front-page apology.

I got to thinking about this today because my daughter (who is a gymnast) is considering attending Kent State, because they have a decent gymnastics team. That prompted me on a quest to find the story, so I searched on the Google News Archives, and bingo, I found it.

So here they are: The most tasteless Daily story ever, and the apology that ran the next day.

Take care and Go Blue!
Prepare to cringe:

THUD.
I'm guessing my man Fisch looked at his lame arse assignment (a hoops preview for Kent State fergodsakes), swallowed a couple drinks, and hammered out something he figured would be cool, edgy and funny to spice it up. It probably read a LOT better at 2am with some tunes blasting. But anyway you slice it…THUD.
You can't unring that bell—but here's the best shot by Daily editor Mark Parrent: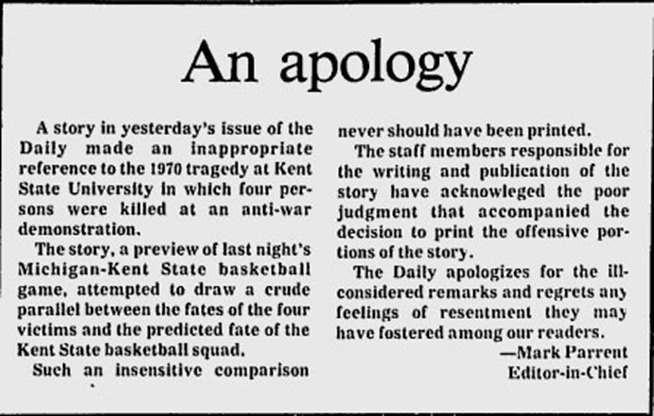 Thanks to Buddy for passing this along!
P.S. Michigan killed defeated Kent State 97-72 on 12/10/80.
P.P.S. Speaking of Buddy, I noticed a 90 second clip of Willis Ward is out there on YouTube, talking about Gerald Ford and the Georgia Tech game (a few clips are in Black and Blue).
Related: Low Point on High Street (1982) (A young Wojo gets tossed in the clink back in the day)
Follow MVictors on Twitter