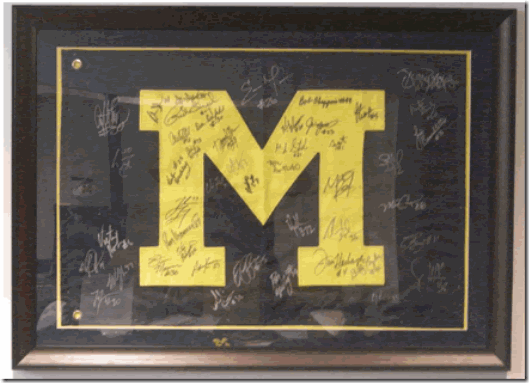 According to my deep cover, bunkered moles at the athletic department, this sweet item has been relisted on the auction to support the Pat Maloy Scholarship.  A frame and signed 'M' flag containing the signatures of an amazing array of Michigan football greats.  From the auction description:
You will never find a greater piece of Michigan football memorabilia anywhere. This is a two foot tall by three foot wide Michigan flag autographed by 46 of the greatest players to ever don the Maize & Blue in Michigan Stadium. The flag is professionally matted and framed with UV protectant plexiglass. The flag is autographed by all of the following former Michigan stars:
Charles Woodson. Jake Long, Ron Kramer, Anthony Carter, Jim Harbaugh,  Anthony "A-Train" Thomas, Larry Foote, Victor Hobson, Elvis Grbac, Will Johnson, Morgan Trent, Tim Jamison, Aaron Shea, Rick Leach, Don Dufek Sr., Don Dufek Jr., Ali Haji Shiekh, Bill Dufek, Harlan Huckleby, Stan Edwards, Steve Morrison, Adam Kraus, Derek Walker, Chris Floyd, Clint Copenhaver, Ron Simpkins, Glen Steele, Mark Messner, Jamie Morris, Bob Chappuis, Greg McMurtry, John Wangler, Marcus Ray. Billy Taylor, Reggie McKenzie, Buster Stanley, Jim Brandstatter, Scott Dreisbach, Mark Campbell, Rondell Biggs, Carl Diggs, James Hall, Doug Skene, Ron Bellamy, Andre Weathers and Eric Mayes. Bid high and often and good luck.

Item is hanging in Moe Sport Shops on until the end of the auction if you wish to see it in person.
Bid on it here!
Related:
* A nice complement, how about your very own Michigan Football lockers, pulled out of Schembechler Hall to make way for the renovation?