Here's the last entry* in 'This Week in Michigan Football History' to be played Saturday on WTKA 1050AM's Key Bank Countdown to Kick-off pregame show before The Game.
It's probably the most unique segment in the series as we go back — ALL the way back – to the 1800s and talk about the game played on this day in 1883 against Stevens Institute, the first game ever played against Racine College and a few key facts from the underappreciated 19th century.  I hope you enjoy it:
Standard Podcast
Play Now
|
Play in Popup
|
Download
Thanks to reader Scott B. for pointing out to me the tie to George Jewett, the first black player in Michigan (and conference) history, and the current team.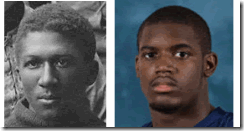 Believe it – according to U-M Media Relations, freshman DB Courtney Avery is a descendant of Jewett.  I'm digging for some better details on this.
The sponsor of This Week…is Wolverine Beer so here's where you can find it and you can hear all of the  This Week… clips here.
* Exclusive: We might to special hockey history segment for the Big Chill so look out for that.