The Freep released these not final renderings of the throwback jerseys for the Notre Dame game (HT: mgoblogger Rescue_Dawn).  U-M Media relations advised they won't comment on the jersey until it's official, done, and in hand.  Nothing official here!
In the meantime, here's what the Freep posted: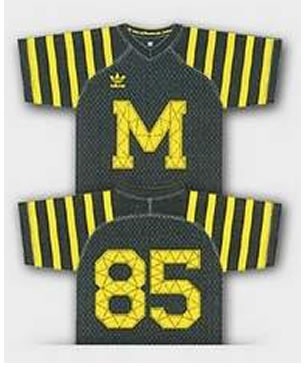 The Freep staff writer added this:
If this Michigan football jersey looks like something Bennie Oosterbaan or another Wolverines star from yesteryear might have worn, well, that's the point.
Well, Bennie O. didn't wear anything that looked like that I can assure you, and I'm not sure if any other star from yesteryear did either.  Here's Oosterbaan in 1927 for instance: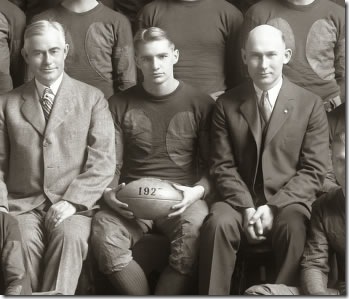 I'm sure there are certain constraints the athletic department and adidas are dealing with (material, size, and marketing–they want to sell a bunch of these, after all).  The question mark for me concerns those stripes on the sleeves.  I don't recall stripes having a prominent presence on the gridiron, really, at any point in M history.
Here's a look the 1899 team photo, with Captain Allen Steckle donning the uncoveted maize and blue killer bee stripes: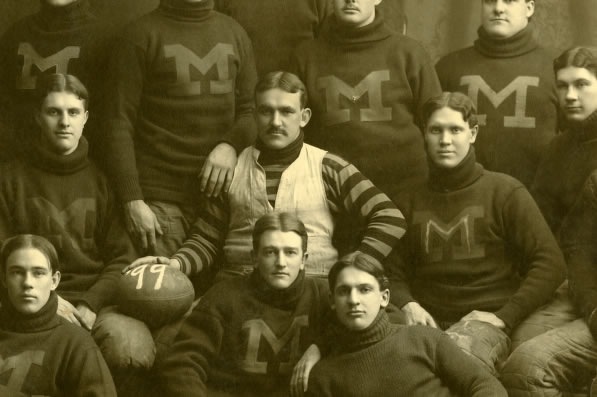 It might strain your eyes, but the jerseys worn by the Yostman of 1920 had a faint pinstripe on the sleeves: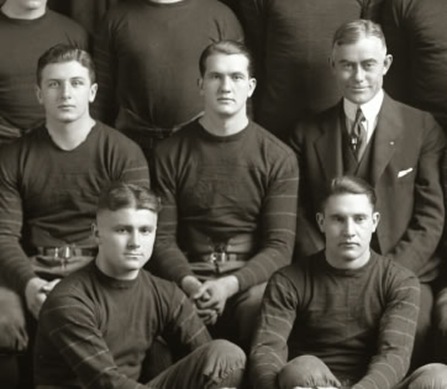 The Mellow Mustached Men of Michigan's inaugural "foot ball" squad of 1879 rocked these stripped fedoras: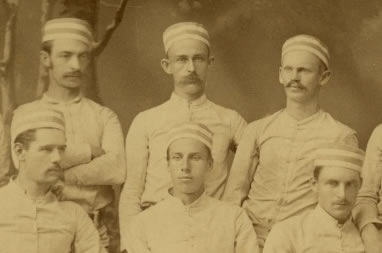 So if I were designing these jerseys, I would have gone with a more basic design utilizing the more traditional block M, here in 1898: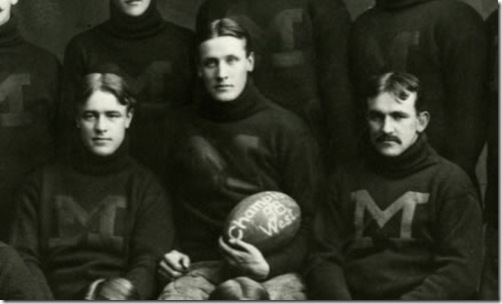 If they feel they needed to spice them up, maybe add a design a la the actual Oosterbaan photo above, or slap some lines indicating where some old jerseys have makeshift shoulder pads sewn in as seen here in 1901: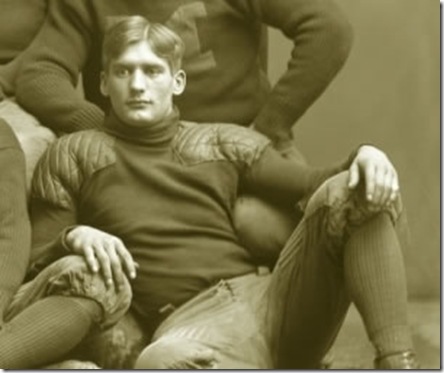 Maybe something more like this (wider M, with makeshift shoulder pads):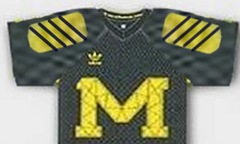 Again – nothing is official so please only panic quietly to yourself until we see the final designs.  
Whatever happens, at least they didn't throwback to 1885 (!)…although we definitely need more top hat-and-cane-clad Magicians in our team photos!: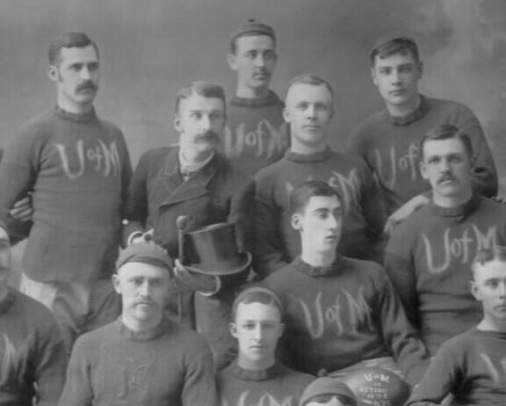 Update:  Eureka!  Well, sort of.  Here's the 1889 team photo with most of the players either just back from Jackson prison or donning a thick-striped jersey (with turtlenecks): (HT: mgoblog and Doctor Saturday).  BZZZzzzzzz: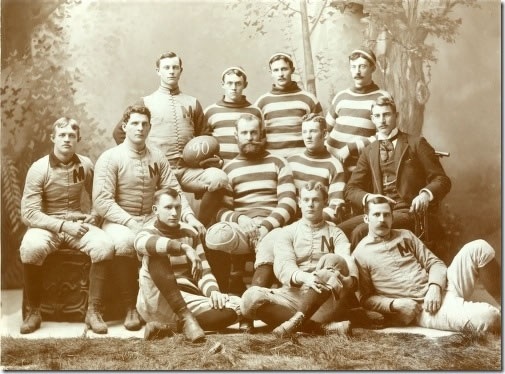 And P.S. to Brian, yes, there really is a Horace Prettyman: