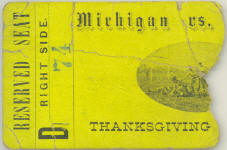 Have a Happy Thanksgiving!
Did you know that Michigan football used play on Thanksgiving day?  Indeed—your beloved Wolverines met Amos Alonzo Stagg's Chicago met on this holiday on several instances back in the 1890s including a couple historically significant battles:
1896— The undefeated Michigan squad met up with Stagg's Maroons in the Windy City in a unique venue (see ticket stub above, via Jack Briegel's collection).  As far as I can tell it was the first  football game played indoors, yes, inside the Chicago Coliseum.   Chicago squeaked by 7-6 in the first year of B1G conference play.  Get this–they even invoked "electric lights" when it became dark inside the facility late in the game.  Want more?  Check out my This Week in Michigan Football History piece from last year.

1898—What else can you say?   Once again undefeated heading into the finale, Michigan's 12-11 victory in 1898 was played on Thanksgiving 114 years ago this Saturday.  U-M student Louis Elbel was so inspired by the Wolverines' win, which capped a perfect season, he composed 'The Victors' in the aftermath.
Postscript:  Michigan was undoubtedly the Champions of the West in 1898, but looking back does Michigan have a right to claim the title of national champion?  It's seems silly discussing this 114 years later but there is recent precedent for such action.   In 2004 Southern Cal looked back at its history and claimed the 1939 national championship.   And in August this year, our Little Brown Jug rival Minnesota announced that it claimed a share of the 1904 national championship.   While Harvard and Princeton each take credit for the 1898 crown based on different measurements – Does Michigan, who went undefeated and outscored opponents 205 to 26, have an argument to join them?  Ok, it's silly.  But fun to talk about.
Beat Ohio!
[Originally posted November 2012]