A few items of interest from around the web, here on Wednesday evening before the battle for the Little Brown Jug: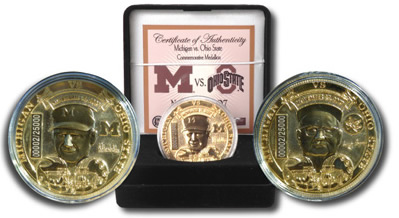 – Just posted on mgoblue.com, for sale is a replica commemorative coin that is being used on Novermber 17th as the flip coin for the big game. It features the likeness of Woody on one side, and Bo on the other. Have to assume the Buckeye captain will call 'Woody' when the teams meet at midfield but we'll see. For those who need to add to their collection of knicknacks, and knicknacks.
– Frank Deford on NPR this morning, discussing the ridiculous nature of the college bowl system:
"No fair or rational system can choose just two teams to play for the title. 'Dancing with the Stars' is a more genuine athletic competition."
– Earlier this week Mgoblog on Lloyd Carr:
Carr has once again picked his charges up off the mat and driven them towards respectability. We can wish this peculiar talent of Carr's was less firmly established, but we should be thankful for it at the same time.
– And finally back to the Little Brown Jug, an excerpt from this week's Game Notes press release:
The trophy disappeared from the trophy case of the Michigan Athletic Administration building in 1930 and was not found until 1934. Before the actual jug was found behind a clump of bushes by a gas station attendant in Ann Arbor, a replica of the prize was displayed in Michigan's trophy case. The authenticity of the original was confirmed by a flaw that could not be duplicated. Since then, the trophy has been carefully safeguarded.