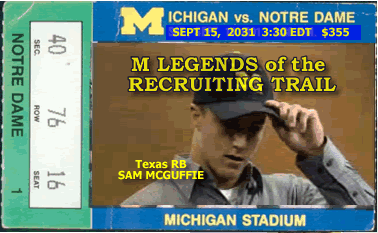 Running out of Ticket artwork ideas by 2031
Our great departed leader Bo Schembechler felt that the Notre Dame Fighting Irish broke a gentleman's agreement with Michigan to make the M vs. ND game the first of each season. Bo was all miffed at the Domers for rebuffing overtures to join the Big Ten. He felt that Michigan, Michigan State and Purdue should each drop the ND from the schedule immediately. Summarizing his feelings on the Irish Bo told anyone who'd listen, "To Hell with Notre Dame".
Well, Bo's no doubt turning over on this one. Michigan and Notre Dame will play through 2031. Sweet Touchdown Jesus, I was graduated in 1993 and I'll be 60 when this contract expires.
Initial Reaction: I understand Bo's feelings on the topic but overall I like the series. The game is huge: even when the Irish were down recently it still was one of the biggest games of the year. Yes, it'd be cool to get an Alabama or an Oklahoma on the schedule, but one thing I like about having ND is the accessibility. South Bend is a shorter drive than to any Big Ten away game other than Michigan State. And say what you want about the town of South Bend, it is still a great experience visiting the campus.