The Spartan hoops head coach joined Jim Rome in the second hour today, talked about the state of his team of course, but also reflected on the early days of the Michigan rivalry, much about the new Spartan logo, and finally on kicking Kalin Lucas out of practice.   Audio, approximately 11 mins:
Tom Izzo on Rome 1-29
Play Now
|
Play in Popup
|
Download
Izzo joked that the 2000 NCAA title seems like it occurred "100 years ago"
Admits he was "Too fixated" on Michigan basketball in his early days.
"To this day I still love Chris [Webber]."
On the "uproar" [Rome's words] on the

new MSU logo

.  "We didn't get a chance to sell the whole package [because the logo leaked out]."
Izzo admits is that it was frustrating swapping logos/emblems over the past several years.
On the resistance to the logo: "I was shocked…I could hardly tell the difference."
Izzo mentioned that several folks have likened the change to changing the U-M helmet, which Izzo dismissed because the winged helmet's been around for many years [Izzo said "90 years",

technically it's been 71 – history nerd

!] and the Spartans have changed their logo several times over the years.   We all recall when Tom Goss tried to put 'Hail to the Victors' inside the maize wings of the winged helmet, but Jon Falk thankfully nixed it.
Rome emailer Stu from Manhattan had his own suggestion for the new Spartan logo.
On the Lucas situation, like everything, Izzo downplayed it. 
Izzo is first class, he's loyal to his school and to AD Hollis and obviously an outstanding coach.   I think there was a period, probably a couple years ago, when I think Michigan fans had a more favorable impression of Izzo than many Spartans.   [Wouldn't it be a hoot if they ran political-type favorability ratings on coaches, athletic department policies and the like?]   I think last year's Final Four run put that to bed for now at least.

Aside #1 – one of Rome's favorite guys is Jalen Rose, who we all know was at the Michigan State game.  I didn't want this photo to escape, thanks to Said Alsalah the Michigan Daily, JR in his epic velour [or corduroy, per Tim at MSC] suit: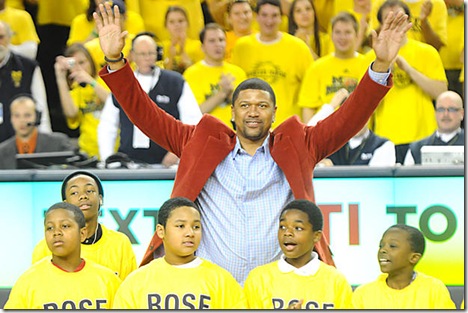 I also props to peewee second from the left rocking his tunes at midcourt, as if he had more important things going on at that moment.  Love it.   And this was not Jalen's first trip out in public in the shocking red, no one forget his fly suit on NBA Draft day: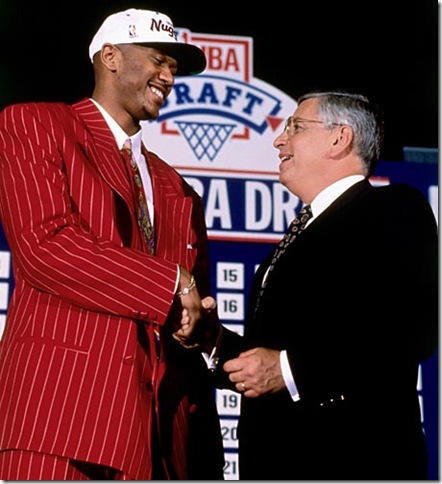 Aside #2

While poking around for the Izzo audio, eventually provided by reader Matt, I checked out Rome's new Facebook page.   One of the fans of the site uploaded this photo, Tiger Woods as Butthead, awesome: