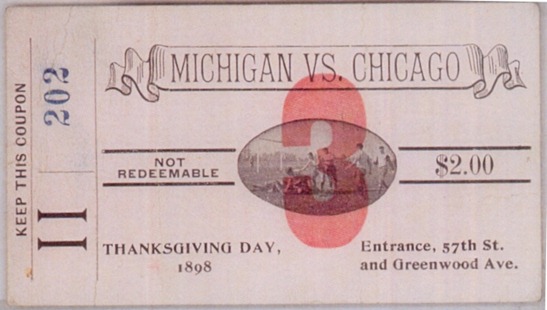 Stub via ticketmuseum.com and Ken Magee of Ann Arbor Sports Memorabilia
This week we go back to Thanksgiving Day, 1898 as Michigan head coach Gustave Ferbert and his undefeated Wolverines traveled to Chicago to face Amos Alonzo Stagg and his powerful University of Chicago Maroons. While rarely discussed these days, the game is without a doubt one of the most notable match-ups in Wolverine lore.
While today's our undisputed rival is clearly The Buckeyes, back in 1898, the coach and the team that really got maize and blue blood boiling was Stagg and his Chicago teams.   Have a listen:
This Week in Michigan Football History - 1898 - Week 12 2012
Play Now
|
Play in Popup
|
Download
You can catch all of the This Week in Michigan Football History clips here.   Listen to it live tomorrow on the KeyBank Countdown to kick-off on WTKA 1050AM.