HOLD ON TO YOUR MAIZE AND BLUE FEDORAS!  For the Under the Lights II edition of This Week in Michigan Football History we take a double dip to the opening game of two Heisman winning seasons: Tom Harmon's trip to Cal in 1940, and Desmond Howard trek to Boston College in 1991.   Each man delivered two of the greatest performances in Wolverine history, accounting for 9 touchdowns between this.   And Harmon had to outduel 12 men on one play, as my man Bud Brennan hopped on the field and tried to bring down Terrible Tommy.
Without further ado:
TWIMFbH Week 2 2013 Harmon and Howard
Play Now
|
Play in Popup
|
Download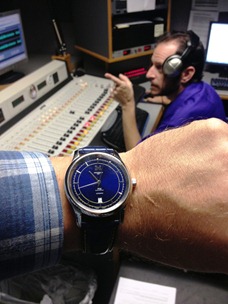 For more on the 1940 Cal game and much, much more on Tommy Harmon, grab Saturday's commemorative game program and support U-M efforts to archive these men and these eras.
Oh, and sponsor note.  You know I recorded TWIMFbH in style by rocking my Michigan Game Changer from MaraWatch, don't you?  That's it on the left with Ira manning the 1s and 2s in the background in studio at WTKA.
Remember:  You can catch all of the This Week in Michigan Football History clips here.   Listen to it live tomorrow on the KeyBank Countdown to kick-off on WTKA 1050AM or catch it live inside the Bud Light Victors Lounge.
Follow MVictors on Twitter
script:
For this Prime Time edition hang onto your maize and blue fedoras we take double trip back in time.  Twenty-two years ago on this day in 1991, Gary Moeller and his #2 Wolverines would open the season on the road against Boston College.
The clash in Bean Town would kickoff a truly LEGEND-ary year for Moeller's talented wide receiver, Desmond Howard.
The trip would U of M's first to trip to New England in over five decades when another talented senior named, ahem, Tom Harmon…visited Harvard in back in 1940.
Just like Desmond, Harmon started his final season in Maize and Blue on the road with a visit all the way out in Berkeley to face Cal.
The rich with tradition Michigan athletic program holds many "firsts"—and for this game Fritz Crisler's Wolverines became the first team to travel to a game by airplane.
There were still many questions about the this form of transportation—from safety to the effects on players—and many of the Michigan men did indeed get sick on the multi-leg trip to California.
One man who reportedly didn't get sick on the ride was Harmon, and it came to game time he gave the 35,000 fans on hand a different kind of wild ride.
And it didn't take long.  "Terrible Tommy" grabbed the opening kickoff and dashed 94 yards to the endzone to stun the over California faithful.
Early in the 2nd he took at punt back 70 yards to the house and six plays he took a handoff deep in Cal territory, blew past the entire team and headed down the field.  As he approached the end zone an unexpected visitor was waiting for him.
Cal fan 'Bud' Brennan promised his pals that if Harmon broke loose again he'd take matters into his own hands.  Bud tried, but like everyone else, failed to bring Old 98 down.  Naturally the cops whisked Brennan away, but Harmon wasn't done.
All told the man we honor tonight accounted scored touchdowns, threw for another and kicked 4 extra points as the Wolverines cruised 41-0.  Two months later Harmon accepted the Heisman the widest margin in the history.
That brings us back to 1991 when the first Michigan Football Legend took the field 22 years ago this day on Sept 7, 1991.   On this day 22 years ago Howard put on a Harmon-like effort, accounting for 4 touchdowns and instantly grabbed the attention of the national media.
Howard took the 2nd half kickoff back 93 yards to put the Wolverines up 14-10.
A Boston College field goal made it 14-13 and it remained that way until just under 8 minutes ago but that's when Moeller's men put on the gas.
Two Elvis Grbac to Desmond TD passes and a Lance Dottin interception return in the final seconds capped the  35-13 victory.   A couple months later Desmond capped a remarkable year joined Tom Harmon as Michigan's 2nd recipient of the Heisman Trophy.