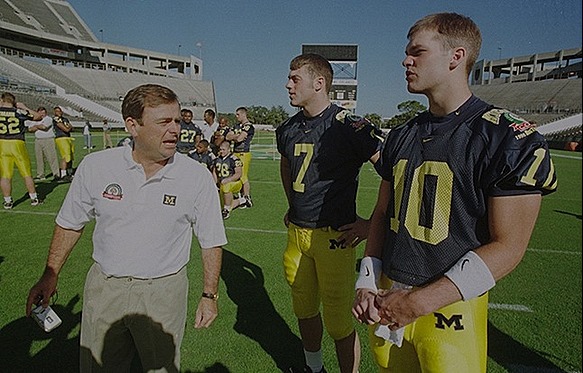 Saturday's edition of TWIMFbH jets back to the conference opener of 1998 – a battle against Nick Saban and the Spartans. Tom Brady took all the snaps for the Wolverines in this gem, played on September 26, 1998:
[display_podcast]
You can listen to all 6 years of This Week In Michigan Football History here. And don't forget to catch the whole KeyBank Countdown to Kickoff on WTKA 1050AM starting 4 hours before each game, and of course live in the Bud Light Victors Lounge when they lace them up in Ann Arbor. See you out there.
Follow MVictors on Twitter
script:
It's hard to defend any title, especially a national title, but that's what Michigan and Lloyd Carr set out to do in 1998. Gone was Heisman winner Charles Woodson, but the team returned enough talent to earn a top 5 preseason ranking.
But things didn't go as planned, and the year started 0-2 with losses at Notre Dame and at home against Syracuse. The Wolverines took the first step toward righting the ship by crushing our friends from Ypsilanti 59-20 to conclude the preseason.
On September 26 1998 the Wolverines opened the big ten slate with a huge one against rival Michigan State and head coach Nick Saban.
One of the big questions of the year was at quarterback, where junior Tom Brady was fighting for playing time in practice with freshman phenom Drew Henson. The jury was still out in the media and with the fans on who should lead the team. Henson had the hype and remarkable raw athleticism. Brady seemed to be a safe but the positively unexciting choice. That season one journalist described #10 this way: QUOTE "Brady still gets rattled, throws into coverage when he shouldn't and is turtle slow, but seems to be maturing nicely as a leader.
Coach Carr decided to give the properly inflated ball to Brady and he never left the game.
Early on it looked like it could be the Spartan's day – as a Plaxico Burress TD catch put the Green up 10-3, but that was nullified when Anthony Thomas dashed 69 yards to the hous to even things at 10.
Midway through the second Brady found Tai Streets for a 5 yard strike but our pesky friends from East Lansing wouldn't go lightly, and they tallied a Bill Burke touchdown late in the second to make it Michigan 20, Spartans 17 at half.
Fans didn't know at the time but that's all Carr and Brady needed. The defense, led by Sam Sword's 11 solo tackles and 4 assists, sacked the Spartans 6 times and pitched a shutout in the second half. The A Train pounded away on the ground, and Brady short touchdown run capped off the scoring in the 29-17 victory.
For more, check out WTKA.com and MVictors.com. For the Keybank Countdown to Kickoff, this is Greg Dooley.