A hearty MVictors salute to distinguished writer John Kryk, author of the brilliant and definitive tome on the Michigan-Notre Dame rivalry, Natural Enemies, for uncovering a little gem.  
The official score of the 1903 game held October 21, 1903 against Ferris State is listed as 88-0.   Recently, the folks at the Bentley applied an asterisk to that tally:

Why the asterisk?  During a visit to the Bentley Library in June, Kryk was thumbing through the bound copies of the Michigan Daily and spotted this nugget in the October 24, 1903 edition, just a few days after the game: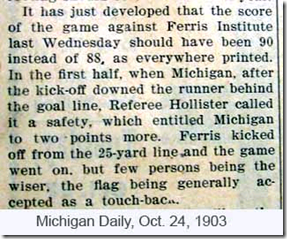 Looks pretty reasonable to me.  Count two more for Fielding Yost and his point-a-minute reign of terror.  For those keeping score, according to Kryk, "That brings the Point-a-minute team's point total up to 2,823 points in 57 games, from 2,821 — for a per-game average of 49.5 points over five years [1901-05]." 
If you're wondering why Kryk was poking around at the Bentley, word on the street is that he's possibly pulling together another book or maybe even books!  You heard it here first.
"I aim to uncover both long-forgotten and never-known stories of the Wolverines of yesteryear," Kryk wrote me, "and set the record straight a time or two along the way."
Can't wait to see what he comes up with.
And speaking of keeping score, that makes three points added for Yost's teams via asterisks this summer.  Don't forgot the extra point tallied on the 1909 Syracuse game a couple months back: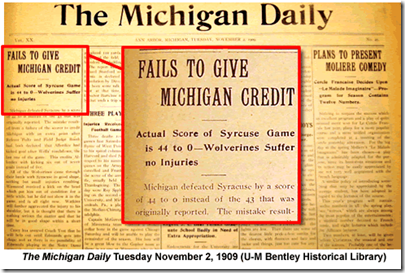 Related: Michigan 44, Syracuse 0! (Nerd kicks extra point)
* Follow MVictors on Twitter