For September 1 against Alabama via Media Relations.
Key Points:
New paint on the helmets to enhance the winged design and protect the surface.
Helmet numbers continue for 1 more game (Bama) but will be discontinued beyond that.
Big block M on the shoulder.
Gloves that have the lyrics to 'The Victors' on them (Only Big Will has the whole song, haha).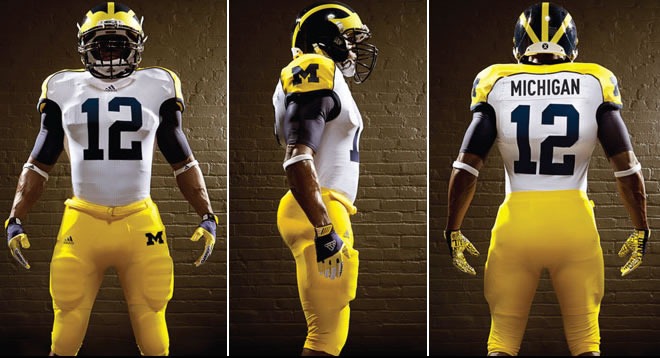 Loading ...
U-M Unveils 2012 Football Uniform Plan; Commemorative Jerseys Planned for Cowboys Classic

ANN ARBOR – The University of Michigan football program and official apparel provider, adidas, have teamed to create a commemorative road jersey for the 2012 season opener against Alabama on Sept. 1.

Michigan, adidas and the school's helmet providers have worked to match the colors in both the helmet and uniforms.

For the Cowboys Classic Game against Alabama, the Wolverines will don a white road jersey with maize across the shoulders and down to the sleeve. Blue piping will separate the maize from the white on the jersey. A blue block 'M' will appear on the left and right sleeve of the jersey and the player numbers are blue. Michigan will wear its traditional maize pants with the blue block 'M' on the left hip. The Wolverines' adizero Smoke gloves will feature lyrics to the school's fight song, "The Victors."

"The players and staff like the commemorative jersey that adidas presented for the Alabama game," said Brady Hoke, U-M head football coach. "The players really enjoyed the legacy and bowl uniforms that were worn last season."

Michigan will wear its traditional home and road uniforms for the remainder of the regular season. For the first time ever, the Big Ten Conference logo will appear on the Wolverines' jersey as it will for all the other league schools.

Michigan may consider designing a special bowl game jersey if the opportunity presents itself.  However, a final determination will be made later in the year.

"From time-to-time, whether it's a regular season or bowl game, our coaches and players enjoy an opportunity to choose an alternate jersey to wear," said Dave Brandon, the Donald R. Shepherd Director of Athletics. "The coaches and seniors have worked with adidas to create something special for the season opener in Texas."

Last season's practice of placing the player numbers on the famed winged helmet will be suspended after the season opener in Dallas. Michigan will be utilizing a new paint technology on the maize wings on the helmet in order to better highlight the most recognizable helmet in college football and create a more durable surface. The Wolverines will also add the American Flag to the back of the helmet starting this season.
Follow MVictors on Twitter