Welcome to the MVictors Uniform Timeline where below you will find a descending timeline of changes to the Michigan football team uniforms over the years.
Current Timeline is here (2010-current)  |  2000-2009 – Click here  |  1990-1999 – Click here  | 1980-1989 – Click here  | 1970-1979 – Click here  | 1940-1969 – Click here   |  1867-1939 – Click here
---
December 28, 1979 | Jacksonville, FL | Gator Bowl vs. North Carolina
JERSEY:  Names appear on back of (blue) Gator Bowl jerseys:

1979 Season | Ann Arbor Michigan
JERSEY: WR Anthony Carter wears a special "tear-away" jersey.   AC from 1980: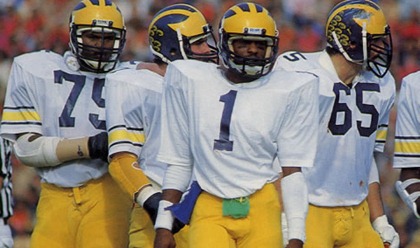 January 1, 1977 | Pasadena, CA | Rose Bowl vs. USC
JERSEY: Player names appear on the back for the first time and the striping changes on the sleeves – one thick middle yellow stripe is flanked by two thinner blue stripes with white space in between: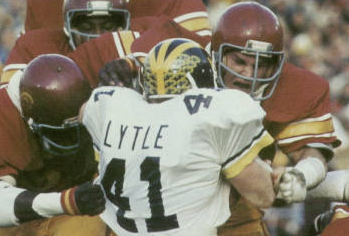 1976 Season | Ann Arbor, MI
HELMET: U-M switches to BIKE helmets for the entire team (90% of the players make the switch – a few still wear Macgregor, Rawlings, or Riddell helmets).
HELMET:  Small number decals (that appeared in 1971) are removed.
HELMET: Subtle change to design as the middle-strip "tail" is removed and now all three stripes converge at the midway point in the back of the helmet.
PANTS:  U-M goes to maize pants for home and away games. (Pic via GutsNGlue).    Pants are in two different tones of maize which appear in photos in 1976–1977–1978.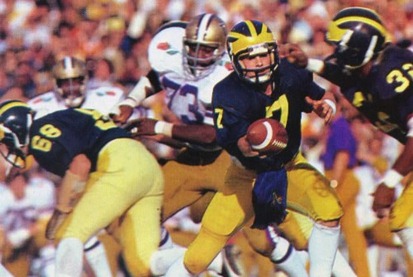 From 1978, here's an alternate view of the two-tone pants from a media event: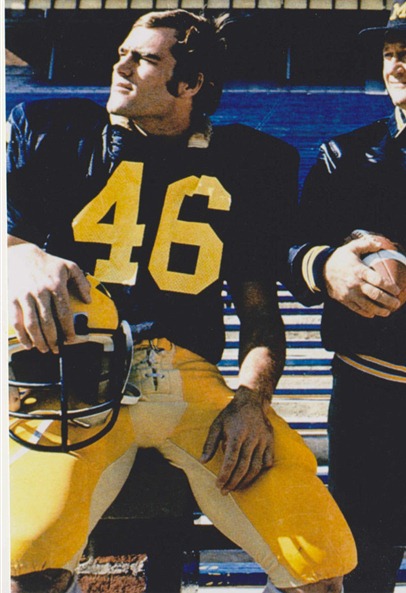 SHOES:  Nike shoes are introduced, seen below on #41 Rob Lytle.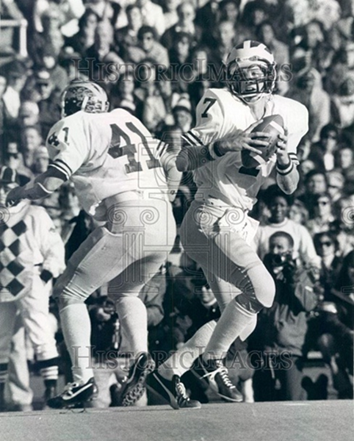 1975 Season | Ann Arbor, MI
HELMET:  U-M changes the facemask color from gray to blue.
HELMET:  Helmet decals get a facelift – now a "snarling" Wolverine head.  An actual 1975-1982 helmet sticker via the Dr. Sap archives: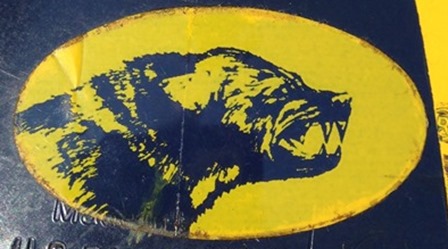 1974 Season | Ann Arbor, MI
MISC: Equipment manager Jon Falk hired away from Miami, OH by Bo Schembechler.
HELMET:  Note this is approximately the time when the majority of the helmet reconditioning is taken over by Capitol Varsity Sports in Oxford, OH.
1973 Season | Ann Arbor, MI
JERSEY/PANTS: Road uniforms changed to all-white – with thin blue and maize striping on the end of the jersey sleeves with matching striping down the outside of the pants.  This design is worn through the conclusion of the 1975 season (concluding with the 1976 Orange Bowl).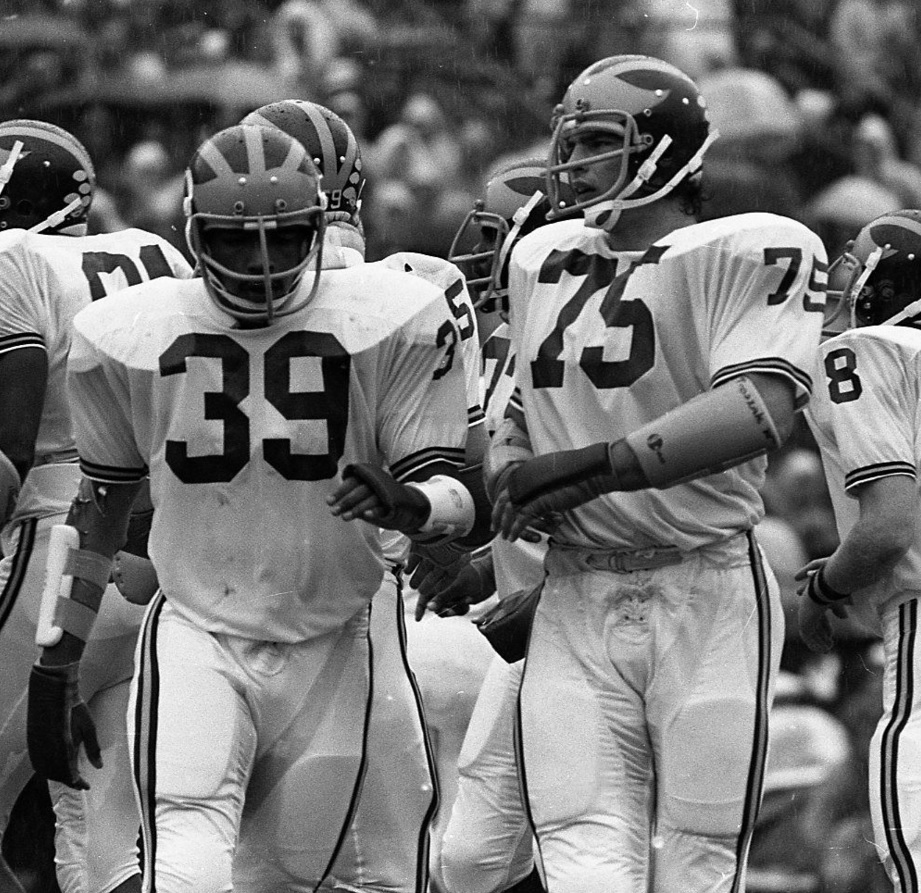 1971 Season & January 1, 1972 | Pasadena, CA | Rose Bowl vs. Stanford
SHOES:  Back Billy Taylor gets clearance from Bo to wear blue Pumas during the season.  For the Rose Bowl, Taylor has the Puma stripe colored maize and adds maize laces.  Full story here: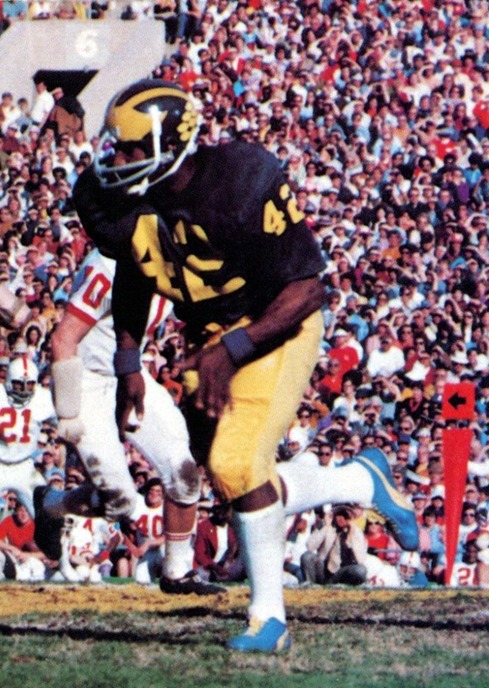 1971 Season | Ann Arbor, MI
HELMET:  Starting in 1971 and through the 1975 season, small number decals are affixed back of the helmets, centered at the bottom (see '94' below):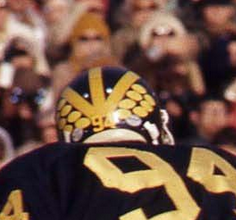 SHOES: Puma-branded shoes are introduced: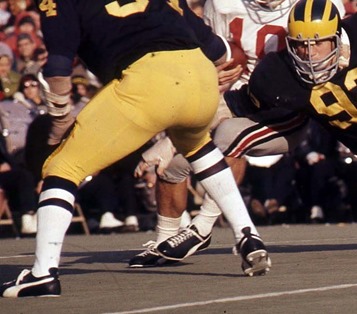 Current Timeline is here (2010-current)
Uniform changes 2000-2009 – Click here
Uniform changes 1990-1999 – Click here
Uniform changes 1980-1989 – Click here