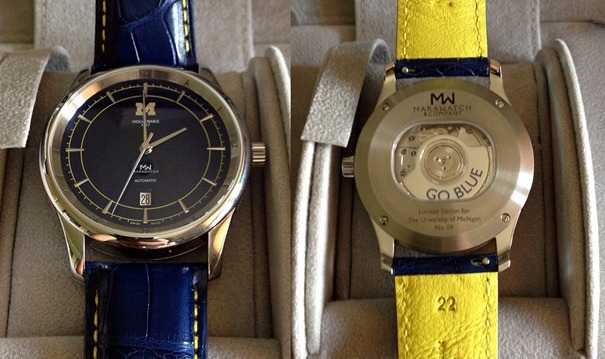 In The Shawshank Redemption, while recapping how Andy Dufresne walked through the prison wearing the warden's shoes, Red asks, "I mean, seriously, how often do you really look at a mans shoes?" That's probably fair, unless we're talking about Billy Taylor's Pumas of course.
Many of you know this season I got to test drive one of the products of my sponsor MaraWatch. Unlike Andy's shoes the watch was noticed—throughout the season I fielded compliments heading into the stadium, on the field by alums, and even up in the press box by my media buds. I also got to know the man behind the operation, Shashi Mara. We met a few weeks back in Ann Arbor and I got to see the whole collection and the different straps. The dude has a great story and an intense passion for his product—down to the finish on the underside of the buckles. I love it.
Over coffee Shashi shared a sneak peek at a couple videos he was pulling together to promote the brand. They've since been finished and they are pure gold–here's my favorite:
Interested in wearing one? For the holidays they'll donate 10% of the sale price to a charity such as the Charles Woodson Clinical Research Fund or the Blavin Scholars Fund. or perhaps something that's close to you. More details here.
Remember it's guys like MaraWatch and Moe's/UGP that support sites like mine and mgoblog –> so give them some love.
Follow MVictors on Twitter