Yes, another top flight Michigan-based recruit went with Rich Rod and crew as Austin White committed today.  You don't go to this site for recruiting updates I'm guessing so check out more on mgoblog or Varsity Blue or your premium site of choice.
My preference on premium site?  Why not Sam Webb's GoBlueWolverine?  Webb was all over this recruitment, in fact it looks like he broke the story.  I know a couple days ago when talking about the "state" of recruiting between MSU and Michigan, the WTKA morning show host encouraged fans to "just wait and see" what White would do, hinting that he kinda felt White was feeling Blue.
It continues a string of great leads from Webb.  Sam broke the news that Michigan stopped pursuing Greg Paulus for still unknown reasons.   Webb also was clearly on the inside of Will Campbell's decision, telling everyone to chill out when Campbell played games with the recruitniks telling the Wolverines were off his list just a day or so before announcing his choice.
Then this happened: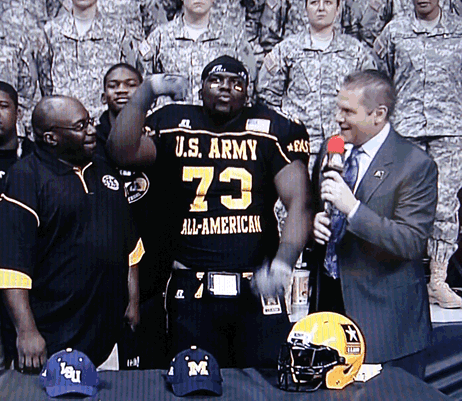 Maybe Webb and GoBlueWolverine will hook up with MVictors to inject some righteous history into the magazine and website?  We'll see.
Here's the audio of the interview with White from WTKA 1050AM in studio with his parents this morning (how's that for being an insider?), where with Andy Evans gone it's been practically wall-to-wall recruiting.  Two audio podcasts:
White part I
Play Now
|
Play in Popup
|
Download
White part II
Play Now
|
Play in Popup
|
Download