Guest post by Steve "Dr. Sap" Sapardanis
I was there at Michigan Stadium when this last happened.
When Michigan last rolled out three straight shutouts, I had the same reaction in 1980 as I did on Saturday – "Wow! Didn't see that coming!!"Granted, 35 years ago the Wolverines stymied some pretty good QB's, with one of them being the all-time leading passer in NCAA history, but as the old hockey saying goes, "They don't ask how – they just ask how many." So true and so impressive. Even more impressive are this week's Champions:
SPECIAL TEAMS CHAMPION – Typically the Special Teams Champion gets also-ran, ho-hum coverage – not anymore! I've played on enough teams and watched enough football to realize that the truly great teams end up getting contributions from different players each week. Saturday against Northwestern was a classic example. In recent weeks I have mentioned how the defense may have set the tone early in the game with an INT, or how the offense may have set the tone by dominating and driving for an early score. Well, Jehu Chesson sent a message that hasn't been sent since Tyrone Wheatley returned the opening kickoff for a touchdown against Houston in 1992. We've all seen how masterful Coach Baxter has been with these Special Teams in the first six games. They are starting to look quite special indeed.
DEFENSIVE CHAMPION – Like I said, three straight shutouts is three straight shutouts – even if they have been against freshman QB's. Nonetheless, like Chris Speilman said a couple of weeks ago, the Big Ten has been put on notice – this team and this defense is for real. Jourdan Lewis's pick-six was an unbelievable play and just the defensive exclamation point needed to remind Northwestern that there was not going to be any overtime in this year's game.
OFFENSIVE CHAMPION – There was a reason Joe Kerridge ran for 34 yards on a fullback dive play. There was a reason nine Wolverines carried the ball for over 200 yards. There was a reason Jake Rudock went 17 of 23 for 179 yards passing. The offensive line imposed their will on the Wildcats, but more importantly they played with a quiet confidence and swagger that we haven't seen from a Michigan o-Line in a loooong time.
UNIFORM CHAMPION – I do like those maize and blue gloves worn by most of the defense on Saturday. Could that be the reason Northwestern missed their field goal early in the game? You have to admit, they do catch your eye. Wonder if that's what the Wildcat kicker was looking at when his kick went awry? Think about it – those gloves preserved the shutout and the shutout streak! OK, maybe not.
Decals dealt out in previous weeks:
Utah: Jake Butt, Jabrill Peppers, Blake O'Neill, (Uniform: White Road Uniforms), John Kryk
Oregon State: De'Veon Smith, Chris Wormley, Delano Hill, The Coaching Staff
UNLV: Ty Issac, Channing Stribling, Blake O'Neill
BYU: Jake Rudock, Defensive Line, Jabrill Peppers, (Uniform: Properly Hiked up White Socks), Amara Darboh
Maryland: Drake Johnson, Desmond Morgan, Kenny Allen, (Uniform: Blue lyrca leggings).
Northwestern:
Sap's virtual helmet for those keeping score (it's starting to look like Peppers!):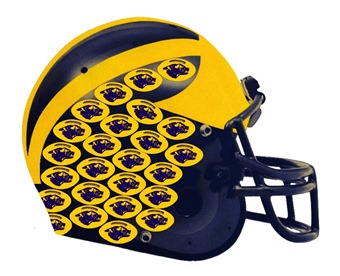 Follow MVictors on Twitter
Related: