This weekend I swung by the local shop (Ann Arbor Sports Memorabilia) owned by uber collector Ken Magee. He's got a solid archive of Michiganensians in the store and I thumb through the 1939 edition ('38-'39 school year). Check out a couple photos from the debut of the winged helmet – October 1, 1938 against MSC in the Big House: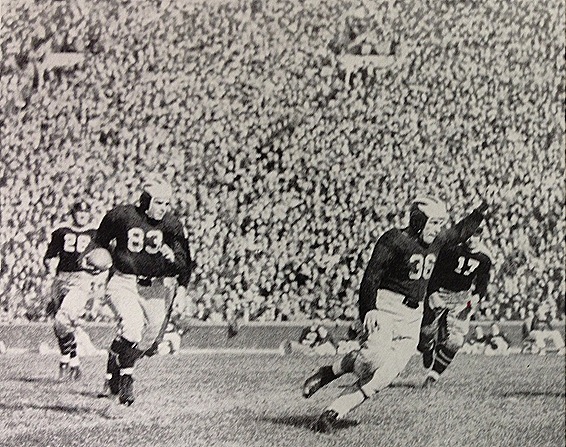 Above>> that's pistol back Paul Kromer donning the fresh headgear (pic added to the Uniform Timeline). He and fellow sophomore Tom Harmon were dubbed the 'Touchdown Twins' but Kromer was the lone star this day, scoring both touchdowns in the 14-0 victory. Kromer's career was cut short but an injury in 1939 and Harmon went on to…<yawn>…win the Heisman, become a war hero, marry a Hollywood starlet, engage in a successful broadcasting career, sire the world's handsomest man, etc. etc.
Also from the '39 yearbook is below>> you've got Mr. Wallace Hook outgunning one of the Spartans down the field in that game, also donning the righteous wings. If you look closely the distraught #24 is donning a winged helmet of his own, a style Biggie Munn bagged in 1947: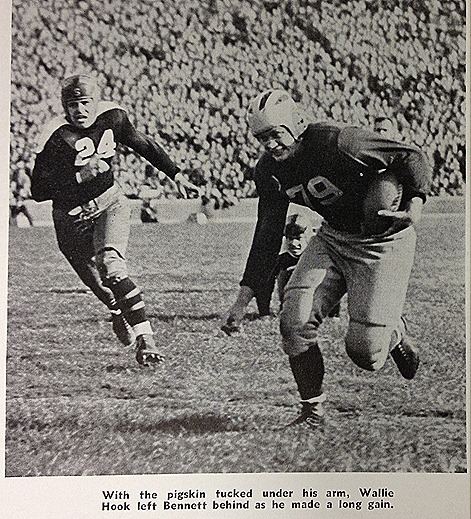 Anniversary and The Book
Given those beauties first took the field in 1938, this season will mark the 75th anniversary of the most famous helmet in football. What better way to mark the occasion by picking up 'Wings' – a illustrated book dedicated to the history of the prestigious headgear. The creators, Jim and Chris Dack, created their personal homage to the helmet with a series of beautiful photos that document the varying styles over the years. It includes photos all over campus. My favorite: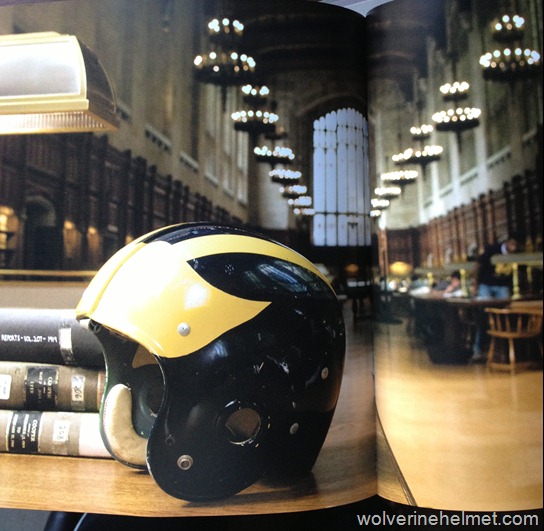 Freshmen should have to go into the Law library, sit in front of the entire class, toss on that helmet & learn where they will be living a la the Sorting Hat.
A couple others: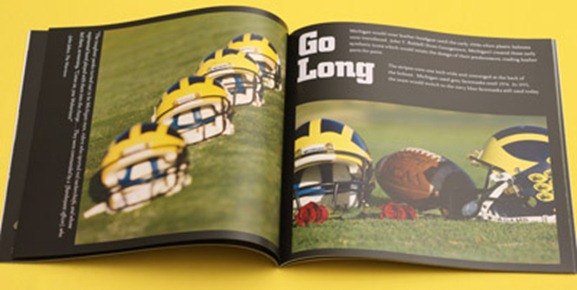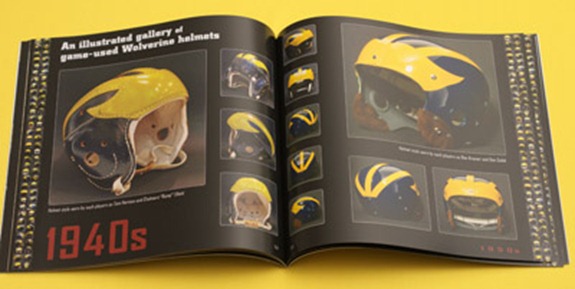 Want it? Pick up a copy or two here direct from the authors and celebrate the 75th anniversary in style.
Follow MVictors on Twitter