Here are the Decal Champions for Week 5 by Steve "Dr. Sap" Sapardanis:
OFFENSIVE CHAMPION – If you are going to be anything in life, be clutch. Why? Because clutch is king! I've played and coached in enough sporting events to realize that you are not going to steamroll every opponent you face. You are not going to ace every test you take. Eventually you will play some one, some team, some coach, who is just as good as you are. When that happens, you gotta be clutch. Why? Because, you will have to scratch and claw and fight for every point you get. Invariably the difference will come down to one key play and when that play presents itself to you, you gotta make a clutch throw, clutch move and clutch catch. Just like Wilton Speight and Amara Darboh did in the final minutes against Wisconsin. Clutch throw. Clutch catch. Clutch!
DEFENSIVE CHAMPION – With Channing Stribling the next man up due to injury, you just knew that the Badgers were going to throw to his side of the field to see what kind of game he had. In a close contest where turnovers & field position were key, #8 came up with TWO HUGE INT's! The quality depth in the Michigan Secondary this year is starting to show its worth and Stribling is a big part of that.
SPECIAL TEAMS CHAMPION – I saw one special play made by one special player that looked even better than this:
Believe me, I was just as awestruck when I saw CW snag this pick back in '97, but what made Jourdan Lewis's fade-away-one-hander even more special was that it sealed Wisconsin's fate and gave Michigan the win. Even more dramatic was the fact that the Badger receiver had a step on #26 AND that Lewis went all out & all-or-nothing on this play. Like the old saying goes, "Players make plays," and this was the biggest one of the game.
COACHING CHAMPION – Whoever came up with the "Ten Deep Stacked-I," (my term) or the "Train" as Brian Griese called it on TV, you get a decal!
Coach Harbaugh, or Drevno, or Fisch or Wheatley– whoever it was [ed: I think it was Jay Harbaugh!] – it just showed me a level of urgency, awareness and preparedness I have come to see and expect from this current Michigan Coaching Staff and that is so awesome to see!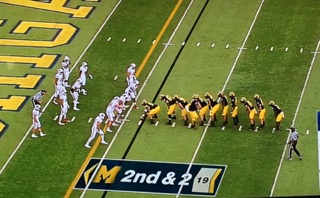 Ed. Maybe Harbs was inspired by these cats?: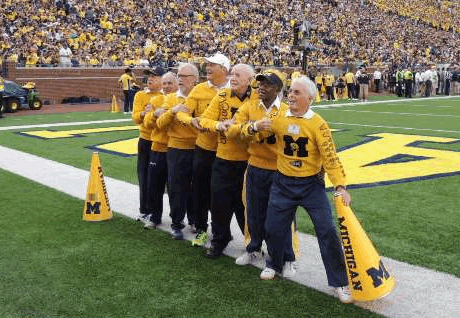 UNIFORM CHAMPION – The Jumpman Headband/Do-Rag that a lot of the Michigan players are wearing under their helmets is starting to become a staple of the Maize and Blue uniform. I dig it! It looks tough and when I saw Amara Darboh rocking one in a postgame interview, I thought it looked…clutch!
Follow Dr. Sap on Twitter!
Follow MVictors on Twitter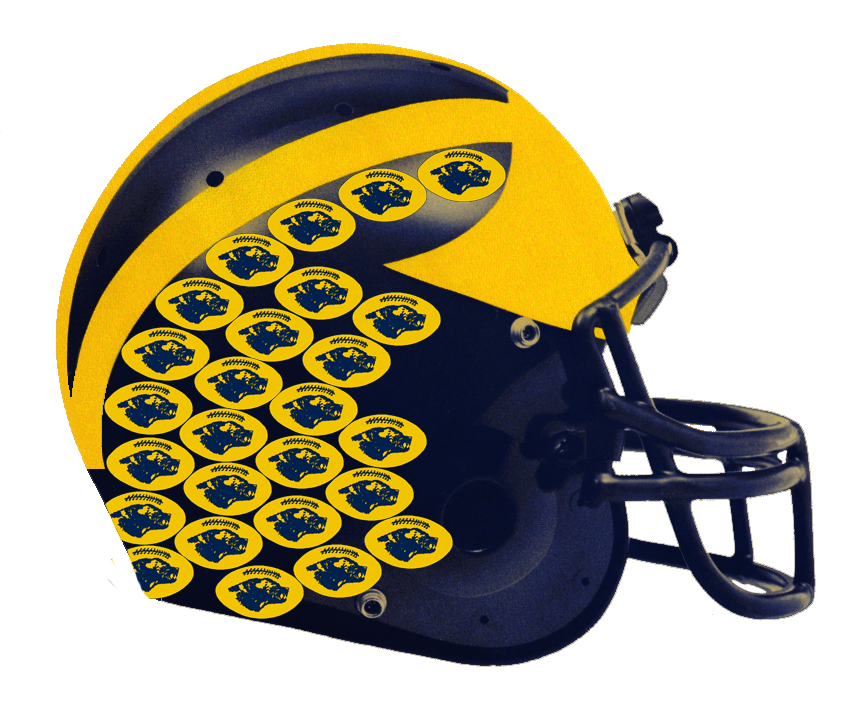 Week 1:  Chris Evans (Offense), D: Mike McCray (Defense), Jabrill Peppers (Special Teams), Don Brown (Coach), Michigan helmet (Uniform)
Week 2:  Wilton Speight (O), Jabrill Peppers (O), Tyree Kinnel/Chris Wormley (ST), Chris Partridge (C), Soles of shoes (Uni)
Week 3: Jake Butt (O), Jabrill Peppers (D), Jabrill Peppers (ST), Don Brown (C), Helmet Stickers (Uni)
Week 4: De'Veon Smith (O), Maurice Hurst (D), Kenny Allen (ST), Greg Mattison (C), #26 White Shoe Laces (Uni)