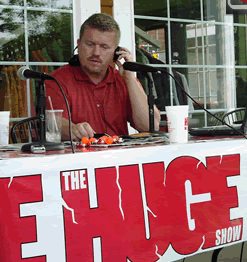 For those who listen to 1050AM WTKA may have noticed that the Dan Patrick Show has run the last couple days in the slot that used to be occupied by Michigan radio host Bill 'Huge' Simonson. WTKA has moved the Huge show out of the drive time slot and onto a 6-8pm window and on delay.
I called the station to ask about the decision. Sounds like it came down to a ratings and perhaps a few complaints from listeners. While Huge is technically a local show, the frequent focus on Central Michigan athletics I think wore thin on some Ann Arborites. So they're moving Dan Patrick into the slot.
I didn't hear Huge's reaction to the show (because Dan Patrick was on!) and I didn't hear the delayed show. I'm sure he's pissed but sometimes radio hosts downplay setbacks like this.
A few quickly scribbled thoughts:
* I'm not a fan of the Dan Patrick show. To me, Patrick is still a witty teleprompter highlight reader and not a radio host. The cute frat boy towel whipping humor is really for the birds.
* I'd prefer a local host, Huge included, cover this critical slot especially during football season. I still miss Dennis Fithian [MVictors interview] and without knowing the financials behind the decision, think it was a big mistake letting him go.
* For a local show, Simonson and his producer Brett Muller got some incredible guests and when talking sports, it's an interesting listen. While some guys think he's a prick, Huge seems like a good man all in all, he's adopted children FWIW and always steps up for quality charitable causes including the WTKA football take-over. So why does that matter? Believe me, Dan Patrick won't be broadcasting live from the Griese-Hutchinson event next year nor will he be promoting the other great things that go on around the A2 community.
* Here's where I think Huge falls down. Some of the stands he takes come off as schtick e.g., How can I piss off MSU football fans this week? and that silly feud with Jim Carty. And when he starts to joke on the show or with guest, I think most of the audience turns into crickets.
* Just a thought, how about WTKA bring back former morning host Steve Clarke in a 3-5 or 3-6 slot? Clarke dials in each Wednesday morning and he's money. He also does a great job in the Bud Light Victors Lounge.
The net: Financials aside, I don't like the move on face but I'm sure there's much behind the decision that I don't understand.
UPDATE 11/12: JC, Esq. has a post up reacting to this post with some insight and to me, some great news. Here's a snip:
This has been coming for a while and I wouldn't be surprised if the show is completely gone at some point sooner rather than later. Expect WTKA to put together an all-local afternoon show that will focus on Michigan sports.
Check out the full post here right now.