The second round of the 'Death March Madness' tournament (current bracket HERE – background here). Here's a printable version.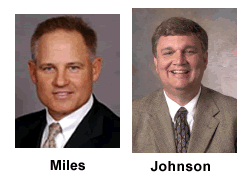 Les Miles (LSU) vs. Paul Johnson (Navy)
How they got here: Michigan Man and LSU head coach Les Miles received a bye in the first round as the #1 seed in the region while Paul Johnson slipped by Mount Union college legend Larry Kehres in the first round.
What can I tell you about Les Miles [bio] that you don't already know? Michigan player, Michigan coach, he's had success at Oklahoma State and he's done pretty well at LSU. The pros? Passionate about this school and its history. He loves this place and that's got to worth something. He seems like a great leader and has done a nice job at LSU. Every indication is that he'll take the job and Martin may not have to shell out NFL money to get him here. It's exciting to think about this guy coming here.
The downside? Maybe not the sharpest knife in the drawer. Those fourth down plays are borderline crazy. It's fun to watch when it is LSU playing- not sure it'd be such a ball if all that stuff happened in the Big House. Also it looks like he and Coach Carr aren't BFF, stemming perhaps from attitude differences when they were young assistants under Bo, and some recruiting clashes in Louisiana.
Face it, you've already made your mind up about Miles. You either want him here or you don't. Most of you want him here.
On Johnson, from the Navy official site:
Johnson took over a program that had posted a 1-20 record the previous two years before his arrival in 2002. After a 2-10 mark in his first year, the Navy football program has achieved what many thought was no longer possible at an Academy, as Johnson has brought the Midshipmen back into the national spotlight with a 35-15 (.700) record over the last four years and has led Navy to a school-record four-straight bowl games and a school-record four-consecutive Commander-In-Chief's Trophies. The 35 wins are the second most in program history over a four-year time span. Johnson's .744 career winning percentage (99-34) ranks 10th among all active coaches. Like a fine wine, Johnson's teams are better as they age [it really says this]. Over the last four years, Navy has posted a 10-2 (.833) record over the final three games of the season and has outscored the opposition, 464-246, in those contests.

Johnson's teams have been successful off the field as well, as Navy ranks No. 1 in the country in graduation rates.
MERCY! It's Miles with 92% of the vote – that was quick. Here's the latest match-up:

{democracy}