A quick follow-up on my post from this weekend on Harry Kipke and some of the troubles he ran into in the late 1930s.   The muckety mucks on campus accused Kipke of running with some foul characters, namely Henry Ford's henchman and enforcer, Harry Bennett. 
Bennett lived just down the street on Geddes and reader John F. sent me this link with several nice photos of the castle, including the bizarre tunnel that lead to the his pets lions and tigers.  Enjoy, photos via retro: kimmer: blog: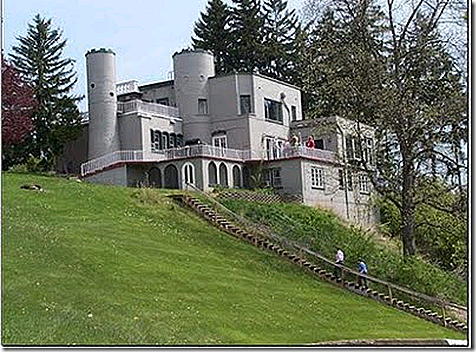 The post also has more details on the inside:
Down in the basement, HFHA members found a bar and billiard room styled after an English Pub, an area where Bennett often conducted "Ford " business. Another room is reminiscent of an underworld catacomb. Most unique, a tiled Roman bath carefully hidden beyond a sliding cabinet. For those members who dared, an exciting, yet somewhat claustrophobic, experience, was a stroll through the seemingly endless, and unlit, under ground tunnel. This ran from the hidden bath to the outbuilding that house Bennett's infamous lion and tiger dens. A branch of this tunnel leads to an extremely tight spiral staircase, which ascends to the top of the home's guntower.
Here's a peek at that tunnel: