If you watched Sunday's broadcast of the North Carolina-Duke game, you might have noticed a familiar face behind the bench.  Seated in the prime seats was none other than Juwan 'Big Nook' Howard of your Fab Five.  I'm not sure exactly why he was there, but he plays for the Charlotte Bobcats so it wasn't much of a trip to get there. The CBS cameras panned to someone else but the unmistakable mug of Juwan was in clear sight: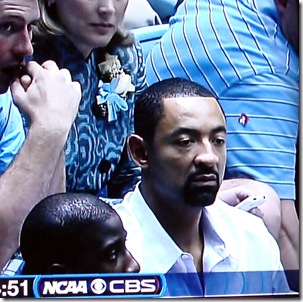 Howard knows these teams pretty well of course, playing (and losing) in the NCAA finals to Duke as freshman then to North Carolina as sophomores.  I was at the latter, sitting about 20 rows behind the bench as UNC's Donald Williams rained down threes the whole game and Chris Webber painfully called the timeout.
If you are staring blankly at the Big Nook reference, it was Juwan's nickname (at least in college).  I don't know if he got it at Michigan or before, but it's what they used to flash on the Crisler scoreboard during introductions and when the big fella made a nice play.
They worked up scoreboard aliases for the rest of the Fab Five too, thanks to Rosey and Sarin for bringing these back: