Next installment of eBay Watch features a somewhat unique piece of memorabilia from the Bo era, a ticket stub from the 1976 Orange Bowl game where Michigan faced Oklahoma. Here 's the auction, with a starting bid of $9.99 waiting for a taker, and here's a snapshot of the stub being auctioned: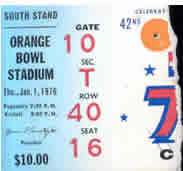 For what it's worth, here's a cleaner version of how the ticket looked thanks to ticketmuseum.com, you can see they got a jump on the bicentennial craze right off the bat (1/1/76):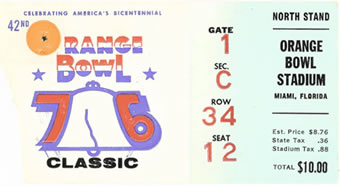 The game holds a historic significance as the first non-Rose Bowl invite in Big Ten history (in the modern era). Under pressure from the Big Ten, much due to the dominance of Michigan and Ohio State over the past few years, the Big Ten decided that teams in the 1975 season would be allowed to play in a post-season game other than the Rose Bowl. The lock at the top by concerned the Big Ten, as these rivals cornered the market on recruiting pitches about bowl games.
For Michigan fans, the game pretty much sucked and paled in comparison to the masterpiece put on in the 2000 Orange Bowl by Tom Brady and Alabama. Freshman Ricky Leach and the Wolverines lost 14-6 in a defensive battle struggle dominated by OU's Selmon brothers, Leroy and Dewey, who tallied 23 tackles between them. Here's a tight recap from the Bentley Library.
Michigan's only score of the game was a touchdown as a result of an OU fumble on their own two yard line. Bo decided to go for two, probably because he wanted to get a head start on avoiding another tie in that season, having tied two times in the regular season. Also, I suppose the Wolverines had an outside shot at the national title if a few things happened. Michigan went into the game #4 in the country, with the Sooners ahead of them.
The team that sent Bo to the Orange Bowl, Woody Hayes and the Buckeyes, were huge favorites to wrap up the season with a national championship against UCLA. They crushed the Bruins earlier that season and went into the Rose Bowl with an air of confidence. Woody even hinted at retirement before the game, anticipating the golden opp to go out on top. But it wasn't to be- the Buckeyes stumbled and the Orange Bowl victory propelled the Sooners the title.
Some highlights from the game, mostly Oklahoma on offense but that's what you get. Please note the Wolverine 'All-Whites' uniforms, and take a close look at the Oklahoma snot-lock block at 1:40 of the tape:
With the Michigan Marching Band scheduled to play a Boy Band-themed set this Saturday for the Miami, OH game [seriously], it's high time to show the band back when men were men. Here's the MMB doing the theme from Jaws at halftime of the Orange Bowl. Check out the band forming a person swimming, about to be engulfed by the jaws of the deadly beast, click for the video:
Related: eBay Watch: 1976 NCAA Finals ticket stub, Michigan vs. Indiana
Related:
Leachapalooza: The Best of Rick Leach on WTKA 12-09