A quick edition of eBay Watch features an auction of a mildly stained ticket from the Michigan-Ohio State game held in Ann Arbor on October 22, 1927. It has a little more significance than just an old piece of memorabilia from college football's greatest rivalry. This game marked the official dedication of Michigan Stadium. Here's the stub: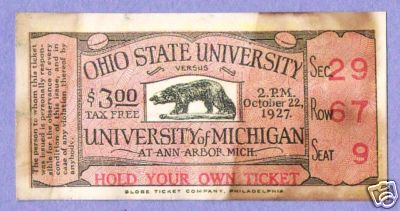 Bennie Oosterbann captained the crew that roared to a 21-0 victory to officially break in the giant stadium, which of course is currently going through some major changes. We're fortunate to have few excellent sources of information on this game.
First, the Bentley Library has an outstanding summary of the dedication. Just a taste:
General admission tickets sold for three dollars. The 11,114 student ticket purchaser had to pay a fifty cent surcharge on the normal $2.50 price for this and the other "big games" of the year. The box seats in the lower rows went for four and five dollars. More than 17,000 tickets were sold at Ohio State.

Nearly one thousand Boy Scouts, from all over Michigan, plus a few from Toledo, Cleveland and Columbus, were on hand to usher the ticket holders to their seats. A crowd of nearly 85, 000 was on hand as the dedication ceremonies got under way at 2:00.
Next, the Bentley site republished the Detroit Free Press article on the big day, click here to read the whole thing. An excerpt:
This day, however, the new castle of athletics was formally anointed. While one cheering block pelted the other with yells and massed bands played Michigan hymns, the stadium was properly and thoroughly dedicated.

It was properly dedicated because there were no speeches for one thing. No gentleman mustered sufficient brashness to think he could successfully pit his voice against the roar of the thousands Perhaps it was brashness that was lacking at that, it may have been the understanding that whatever might have been said with mighty word or tidy emphasis would be so much wasted breath.
Finally, the great WolverineHistorian pulled together this beauty of a video of Dedication Day and posted it on YouTube for all to enjoy:

Here's the full auction for the 1927 ticket stub, there's been quite a few bids already.
Related: