There are certain names in U-M history that when mentioned immediately bring to mind a certain game or, in some cases, a distinct moment in a game. You probably know that Daydrion Taylor is one of them:
Damn. A lot has changed in football since 1997 and I doubt announcers would talk about a hit that way today. While No way the announcers talk about a hit that way today. listening to
I imagine for many in Happy Valley they remember Bob Stephenson, the guy on the other end of that collision, for that play as well: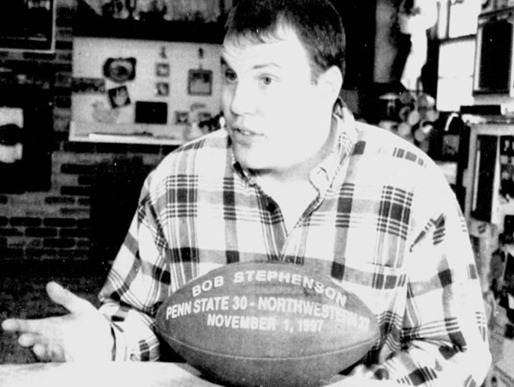 PSU didn't give out game balls after Judgment Day (via PA Observer-Reporter)
The PA Observer-Reporter ran a piece on Stephenson back on December 24, 1997 and he discussed the play:
"I remember the catch and turning upfield. Joe Jurevicius was blocking Woodson and I'm thinking to myself, 'I have room to run.' I didn't see anybody else," Stephenson said. That's all he remembers – until he regained consciousness.

"I knew where I was, but I thought, 'What's going on? Why are all these people around me?'" Stephenson said.

Stephenson said he felt fine. He was helped to the sidelines, where he stood and joked with this teammates.

"The adrenaline was still flowing," he said. Twenty minutes later, the euphoria died.

"When they took time into the locker room, I started getting sick and I got a headache." Stephenson said.

He was diagnosed with a Grad 3 concussion, the worst according to NCAA guidelines. Its symptoms include loss of consciousness, temporary amnesia and nausea.

"Some of my teammates have told me they thought I was dead. If not, they thought I'd be paralyzed."
Last June Marcus Ray talked about the hit on WTKA and provided some very interesting context on not only the '97 team, he also discussed that hit and what probably precipitated Taylor's aggressiveness:
Marcus Ray discusses Daydrion Taylor and the 1997 Penn State Hit
Play Now
|
Play in Popup
|
Download
For more check out this clip (via WolverineHistorian) of Taylor talking about the collision a year later, including commentary from Bo who called it the hardest hit he's ever seen.
Me too.
Follow MVictors on Twitter
[Ed. This post was expanded from my June 14, 2012 post & rerun.]