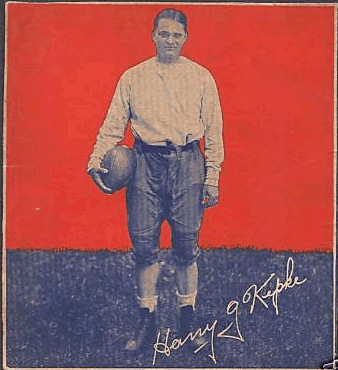 Harry Kipke, 1935 Wheaties Card – being auctioned on eBay
Well quite a few in the media are pounding the most-losses-in-129-years bongo. That's true of course but Rich Rodriguez's 2008 debut will not be the worst season in Michigan football history. The percentage of games in the loss column is certainly among the worst but consider that Michigan didn't consistently play more than eight games for the first 62 years of its existence. If we're going to toss around the 129 years number, the worst season record-wise belongs to the 1881 team that played and lost three games, scoring just four points to 28 for our opponents (Harvard, Yale and Princeton). But since there wasn't a coach or a conference or any known photos of the 1881 team, we'll have to look a little further down the line for a comparable loser.
The next edition of eBay Watch starts with a spicy and pricey number, a 1935 Wheaties card depicting Harry Kipke, the former Michigan punter and coach. The description doesn't give a lot of detail, it simply says "This is a card cut off the back of a Wheaties Cereal Box" yet the seller would like a cool $149.95 for it, take it or leave it. I think that's a stretch and you better be a smooth brother if you're gonna convince your old lady that $150 for the back of a cereal box is a good play.
Harry Kipke's 1934 outfit is probably the definitive low point for Michigan football [see my post 'The Fall of 1934' for more on this season]. The Gerald Ford-led team went 1-7, scored just twenty one points while being shut out in five of the games. Kipke's 1936 team also went 1-7 but played just five league games and scored a few more points than Ford and company.
What's remarkable about the 1934 skid was that Kipke's teams had lost just a single game in the previous four seasons, winning two national championships and four conference titles in the stretch.
Normally I'd go on about the season but I've already pounded this period into the keyboard on several occasions, so please dig in if you'd like more:
1930 Michigan Football Jersey
1933 and the Dickinson Formula
Norm Daniels' 1931 Jersey
On the Meyer Morton Award
The 1930 Schedule Bot!
The Fall of 1934
One topic I haven't dug into is Kipke the player and I will get into this in the future. He was a fine halfback but a phenomenal punter. His punting prowess placed him on the 1922 All American team, and legendary Walter Camp called Kipke the greatest punter in football history.