This morning former U-M QB Rick Leach dialed up WTKA's Michigan Insider with Sam Webb and Ira Weintraub to sound off about the report that Rodriguez backed off the claim that the team hit the highest GPA in team history.  Leach painted it as another attempt by the media to discredit Rodriguez, another "example of people with an axe to grind."
But then Leach took aim at former coach Lloyd Carr, saying "I've had it," asking folks to investigate where and with whom Carr sat at the Iowa game (translation: Carr sat with Iowa people and wore one of those corncob hats).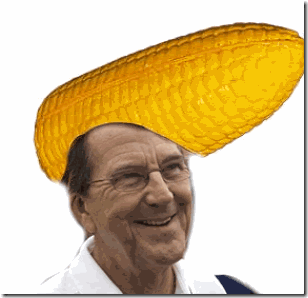 Per Leach, with this act, "our ex-coach flipped a huge middle finger" at Rodriguez.
Further, Leach implied that if and when folks dig around they'll find that trail of the negative press on Rodriguez and this team will lead back to Carr.
Here's the audio of the call, thanks to WTKA:
Leach on WTKA 10-15
Play Now
|
Play in Popup
|
Download
.
Quick take on the Iowa thing –> I don't have a problem with Carr being at the Iowa game in a suite with Iowa people.  I'm pretty sure when folks like Mary Sue Coleman visit other teams, like Michigan State, they are the guests of their peers across the sideline.  Do they have a Michigan suite at Iowa and at other schools?  Where are Carr and 84-year-old Bump Elliott supposed to sit – in the stands with Brian?  I believe Carr and Ferentz are chummy and that's fine; Bump was athletic director at Iowa for like 20 years, and Carr assistant Soup Campbell is now on the Iowa staff.  [Ed. and per Craig Ross, friend of Carr, it was a personal invite from Campbell's camp.]  Do you think Carr was rooting for the Hawkeyes?  Come on.  Big deal.
And a big FWIW, Rodriguez and Ferentz seems to be hamming it up before the game if I read the ABC footage properly meaning they probably do have tea and crumpets now and again.
Update: Former Michigan FB/TE Aaron Shea called up WTKA Friday to defend Carr and get mean with Leach.  Audio here.
Related:
Leachapalooza: The Best of Rick Leach (WTKA 12/9/08)
Carr Reacts to Leach comments (kind of) December 2008