[Ed. Given I ran into big Russell Davis on Saturday, what a perfect time for this guest post by Dr. Sap!]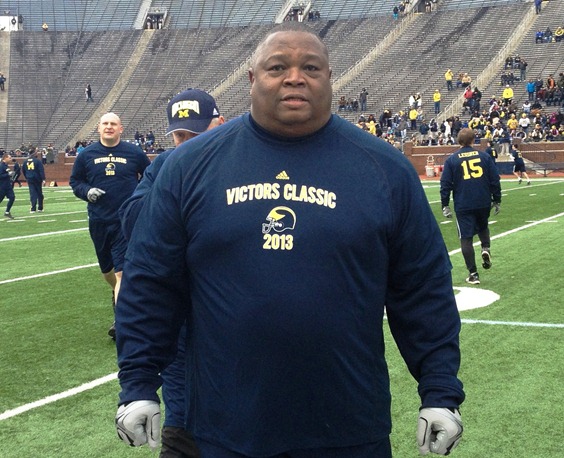 Guest post by Dr. Steve "Sap" Sapardanis
Back in the 1970s, the first week of January was typically not a good one for the Michigan Football team or its players. It usually meant devastating Rose Bowl defeats. But on January 6th, 1979, Rick Leach and Russell Davis changed all that.
Leach was one of three QB's for the East All-Stars playing in the Hula Bowl in Hawaii. Russell Davis was playing fullback for the East squad in the East-West Shrine Game played in Palo Alto, California.
Many expected Leach to be overshadowed by his more high profile counterparts – Notre Dame's golden boy, Joe Montana and Penn State's Heisman Trophy runner-up, Chuck Fusina. Davis was just a fullback…and when had a fullback ever done anything of note in an All-Star or Bowl Game?
When the day was over with, Bo Schembechler had to have been all smiles.
Each player walked away with Offensive MVP honors in both games.
Leach showed a national TV audience that he could throw the football with the best of them, completing 7 of 12 passes for 187 yards and 2 touchdowns. He led the East All-Stars on a 23-point 4th quarter comeback that had to have gotten the attention of one certain QB who was watching on the sidelines.
All Davis did to earn his MVP award was rush for 200 yards on 27 carries. Oh yeah, he also scored SIX touchdowns! Those six TDs were the most scored by a player in Shrine game history.
Davis had neither carried the ball that many times in a single game for Michigan, nor had he ever run for as many yards in one game as a Wolverine. And he certainly never scored 6 TDs in one contest for the Maize and Blue.
Afterwards, a tired Davis said, "I'm going home and rest…I'll sit back and watch the rest of them (games) on TV."
After a performance like that, who could blame him?
Follow MVictors on Twitter