It was an odd vibe before the game. While the atmosphere was a little more exciting than usual, probably due to the timing and the collective BAC, I asked few folks how they felt things would go in the game.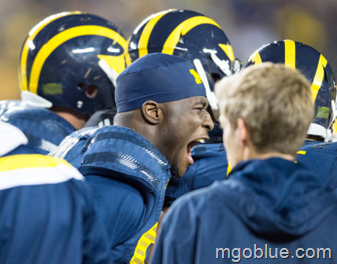 Usually folks narrow in on a player or two or say something like 'if we can just run the ball..' or 'if we don't turn the ball over..or whatever. Yesterday I got looks of confusion, bewilderment and/or just disinterest.
The problem is fans don't know up from down right now—the compass is broken, man. It's a bad place to be. Last night's win didn't fix that but damn, it was nice to walk out of there with a win.
Speaking of up from down, these things happened:
* Players wearing blue pants
* Punt returners doing choreographed pre-punt dance routines with personally selected music blasting over the PA
* MMB doing light shows
If you told me 10 years ago that these things would eventually happen in the Big House I would have hurled. Somehow last night each of those things worked for me (seriously). More below.
To the game: Quick props out there to CAPTAIN Jake Ryan for getting better each week and leading the defense in putting up an inspiring performance. And to Matt Wile for drilling those crucial field goals that proved to be the difference out there. And finally to Devin Gardner…thank 98 if you see him about town. He was clearly hurt but sacked up and made it back out to finish the game and make the next two weeks tolerable.
Arena:
* No boycott – While there was talk of a pregame boycott there clearly was no boycott. John (Captain Torso) Navarre went on WTKA pregame & urged students to not do it. In fact the student section was a filled up early as it's been all season. I'm glad the students showed en masse.
* Section 23 Bo – This is great. The usher all the way atop section 23 (50 yard line on the west side) affixed a Bo-bblehead doll to the wall outside the Regent's box. I love it: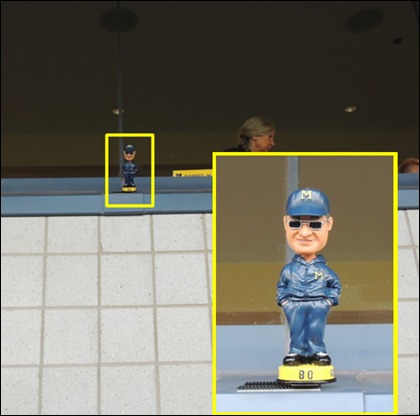 I know some of you want to stick something else outside the Regent's box but please…maintain your dignity.
After the jump – Pomp, Uniforms, Tunnels of Love, MMB Killing it, Norfleet, MORFleet, More, more..
Pomp:
* They Came and they Stayed: Props to the former players for rallying together, speaking to the team and forming a Victors Tunnel before the game. My shot from the photodeck: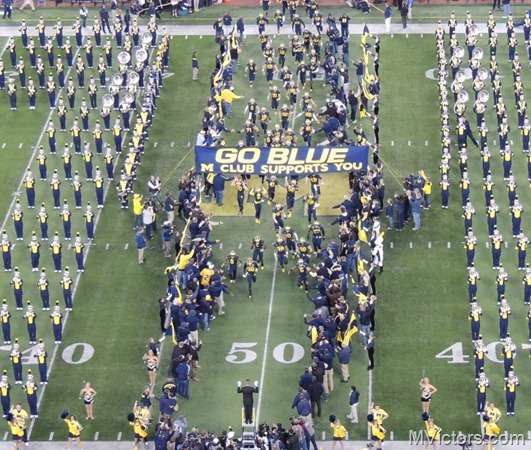 * Tree Wants You – Roy Roundtree at the Go Blue Bowl Tailgate. Treezy knows how to do night games!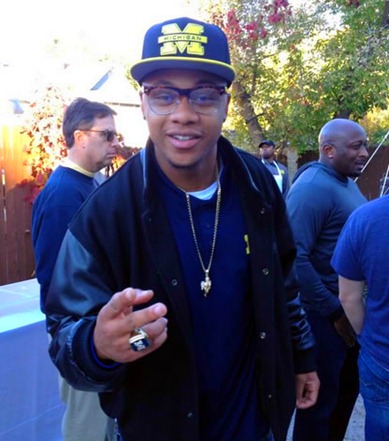 * Mor-fleet. Bo is certainly rolling over in his grave, but I'm guilty—I can't get enough of Dennis Norfleet dancing around before the punts. And yes, I'm not sure it's a positive trend to have his dancing choreographed with the PA music and the big screen, but if it makes Norfleet bust out more dance moves so be it. Sorry.
Ed. Update: BLESS YOU ACE. Historically speaking this footage is right up there with the Zapruder film:
Here he is pregame offering a tiny morsel:
Speaking of Norfleet – here he is locked on and sizing up the entire Penn State team as they came out of the tunnel and headed out for warm-ups. He didn't turn around until every one of them was on the field. Money: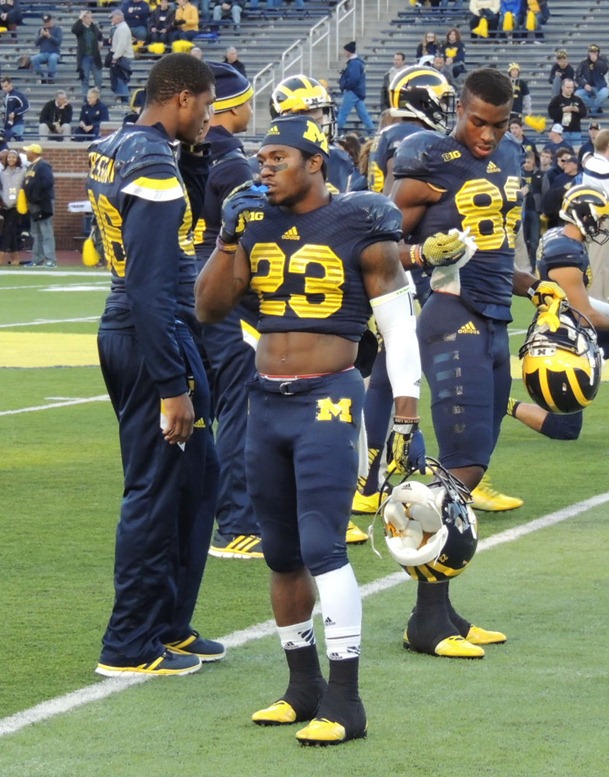 * The Show I went back up to the photodeck to catch the halftime show and big tip of the hat to the Michigan Marching Band. Well done: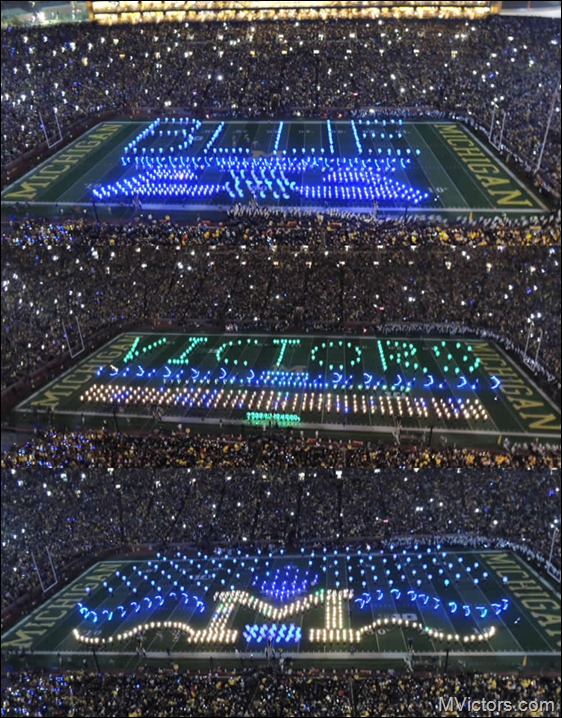 Mood Update: The Mood Index, the metric trying to gauge how great it is to be a Michigan Wolverine. Nudged up: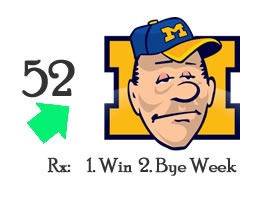 Uniform Update: Officially the special blue/blue jerseys made it to the field so the Uniform Timeline is updated. Once again I'll admit—in general liked these uniforms. A while I think the whole line about how much 'the kids like' the different uniforms is way overblown (and I've heard some say, untrue) – I genuinely think the players liked these blue beauties.
While I don't think this is first appearance of the maize shoes, they were very prominent out there Saturday:

One problem with the maize shoes (at least from the pressbox): I thought I kept seeing penalty flags on the field. Nope – just shoes.
Speaking of maize gear, lest we forget the CANARY DISASTER of 1928 (via Champions of the West):
The only change in the typical blue uniforms before 1949 came in 1928. As Michigan planned to play Navy in Baltimore, the Midshipmen refused to wear any other color than their traditional blue. Therefore, Michigan came out in bright yellow jerseys with blue numerals. The team was said to look like canaries, and the uniforms were put away after the 6-6 tie.
Uniform Timeline will be updated.
Historical Games Notes: Primarily via #1000SSS:
* Gardner upped his career passing yards to 5,543 to move to sixth among U-M's all-time leaders in the category, passing both Tom Brady (5,351, 1996-99) and Jim Harbaugh (5,449, 1983-86). He needs 315 more yards to reach the fifth spot, currently held by Todd Collins (5,858, 1991-94).
* Gardner moved to the seventh spot among U-M's career leaders in both pass attempts (648) and completions (392), tying Steve Smith (1980-83) and passing Harbaugh (387, 1983-86), respectively.
* Gardner recorded his 20th career 150-yard passing game, moving to sixth among U-M's all-time leaders in the category, passing Jim Harbaugh (19, 1983-86).
* Gardner passed Elvis Grbac (6,221, 1989-92) for sixth on Michigan's all-time list for total yards of offense with 6,350 yards and needs 110 more yards to reach the fifth spot on the list, currently held by Rick Leach (6,460, 1975-78). He also passed Anthony Thomas (924, 1997-2000) for sixth on Michigan's all-time list for total offensive plays with 966 and 24 more plays to reach the fifth spot, currently held by Steve Smith (990, 1980-83).
* Senior kicker Matt Wile recorded a career-best three field goals — of 45, 42 and 37 yards. It is just his third career game with multiple field goals. His 45-yarder in the second quarter is a season long. His career long is 52 yards, which he recorded against South Carolina 2013 Outback Bowl.
* Junior wide receiver Devin Funchess has caught at least one pass in 20 straight games and now ranks 10th among U-M's all-time leaders in consecutive games with a reception, sharing the spot with Anthony Carter. He needs a catch in four more games to reach the ninth spot, currently held by Desmond Howard (24).
Program:
Since cover shots for the game programs of the players were shot before the season, they had to re-shoot Funchess in the #1 jersey: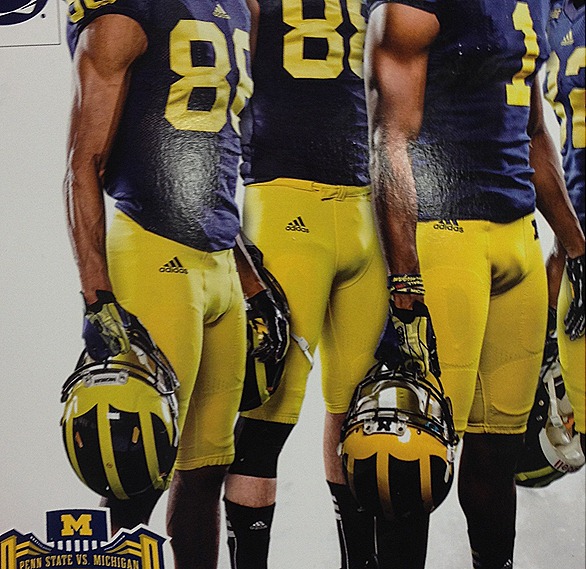 Two things:
1. Notice Funchess has the 2014 helmet with the block M nosebumper.
2. Notice the striking difference in maize tone in the wings that was cited earlier this season between the 2014 and 2013 helmets.
And while we're on the topic of game programs…again—I wish they'd get creative here—do something beyond just players standing there posing!
….
Blogs:
mgoblog – Ace:

Michigan won a game tonight in front of a packed house of genuinely excited fans, and it felt damn good. Maybe not for much of the game, an ugly slog in which the two teams combined for just 470 yards of offense, several Wolverines went down with injuries—including Devins Gardner and Funchess—and both coaching staffs seemed intent on out-bungling the other, but come that final drive, it felt like Michigan football should.
A gutsy performance for an obviously hobbled Devin Gardner was the difference in this game. Michigan was going nowhere with Bellomy in the game, and hats off to Devin for coming back in when his team needed him the most. #98 finished 16 of 24 for 192 yards, 1 pick and 1 touchdown…that wonderful 43-yard grab by Devin Funchess in the first quarter. Had Michigan stuck with Bellomy, who knows how this game would've turned out.
Follow MVictors on Twitter