For posterity, a few sights and sounds all prior to the Apuntcalypse. If you are a sick bastard here are my drive by drive notes. If you are a really sick bastard here's where Saturday's ending ranks amongst the numerous nut punches in Wolverine history.
EVERITT RULES – Former C Steve Everitt never takes off that maize Big House Football shirt, and never disappoints. The Everitt triple Salchow for your files: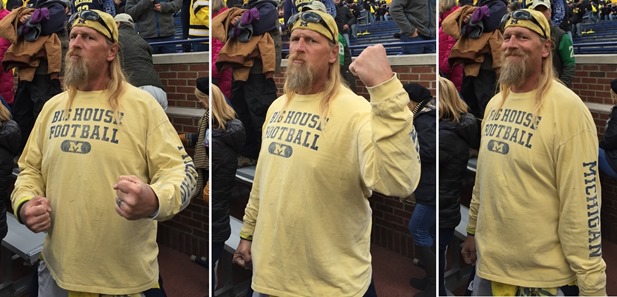 Magic – Of course ESPN GameDay was in town and thus the iconic #21. Here's Desmond with his young lads: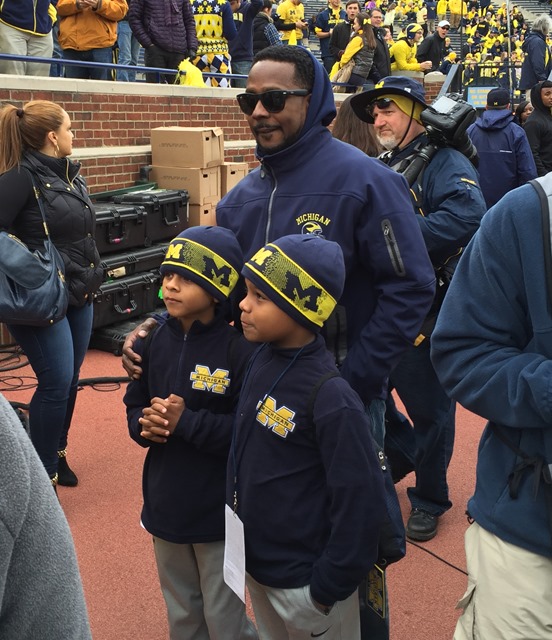 Honoring Vets. An awesome new tradition is honoring these salty military veterans during the game. Saturday 97-year old Lynn "Doc" Munger, who served in the US Navy from 1939-1945 (including time aboard the U.S.S Enterprise – not with Geordi you nerds) was honored. Munger was on prem during the attack on Pearl Harbor.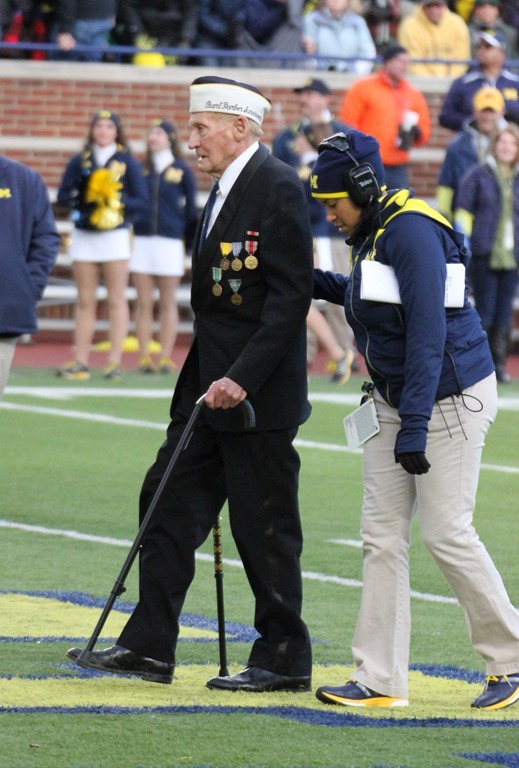 More here if you need it, just a taste:
The morning of December 7, 1941 was normal for the island, as Doc waited in line for morning mess while "chatting and laughing like a big bunch of kids." Although things seemed normal prior to 0800, circumstances quickly changed. Doc recalls hearing a buzzing noise from the North and Northeast that got louder, but thought the US planes were just having practice or doing an exercise. Even when the Japanese planes were overhead, they were not at the ideal height to get a good look at. Doc's first inclination that this was an attack came as he noticed the formation of the planes and watched as a couple of them started to peel off and dive bomb. "And boom, boom, boom; at that point I knew it wasn't fun and games anymore, it was the real thing."
Memo to #1000SSS – keep this up.
Great Cover. Awesome program. Of course I know this now lines your birdcage, but it is still outstanding. Suggestion box to #1000SSS >>> please continue this in 2016: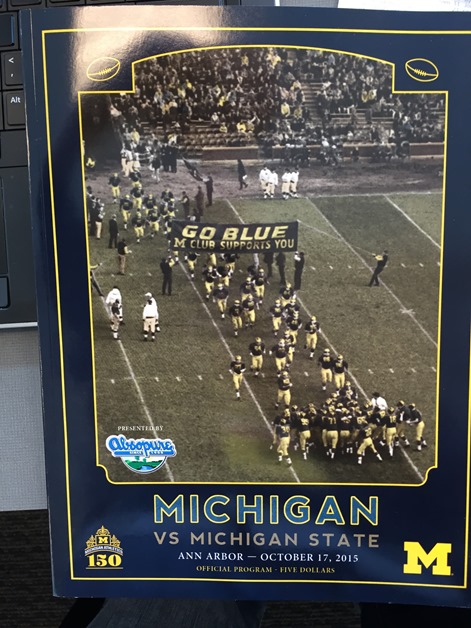 Traditions. Speaking of traditions, I've add the honoring of a great military vet and the new beloved "Rollercoaster" (pic via Ace at mgoblog) the new category of Michigan Traditions – the Bull Pen/Under Further Review.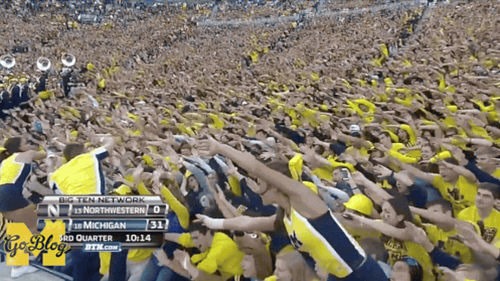 As always, your feedback on this list is appreciated.
Mood Index. This is tough, because this is effectively a measure of how good we feel about the athletic program, of course driven primarily by football. The fact: fans feel good if not great about this team….even after someone just shot our dog with arguably the worst single moment in M athletics history. So it's 80: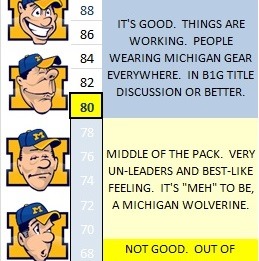 Bird Boy. The kid flipping the bird and mouthing "Fork Steak" made its rounds during the game. I felt it necessary to introduce bird boy to Birdman – that's #87 Ron Kramer:

Another "Wear-Whatever-You-Would-Normally-Wear"-Out. Nice Maize Out: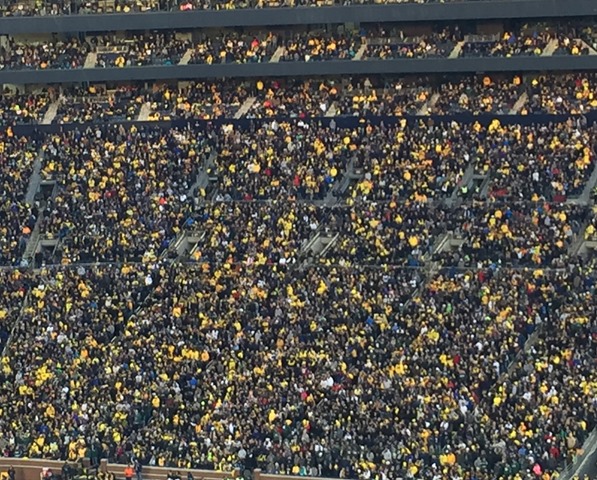 Seriously I think you'd find more "maize" in a photo of Times Square at any given moment.
Uniform Timeline – no update, but props to reader Buckeye Larry for sending me these photos of an original 1943 Elroy 'Crazy Legs' Hirsch jersey (yes I know he's a traitor but this is science, damn it!):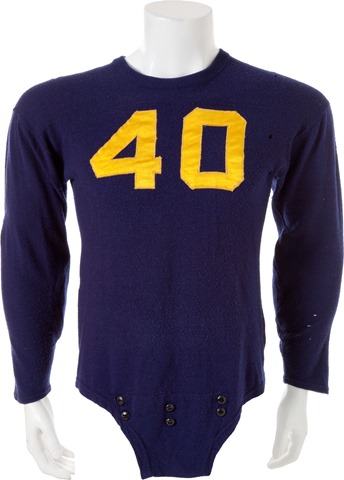 That's all I have.
Follow MVictors on Twitter