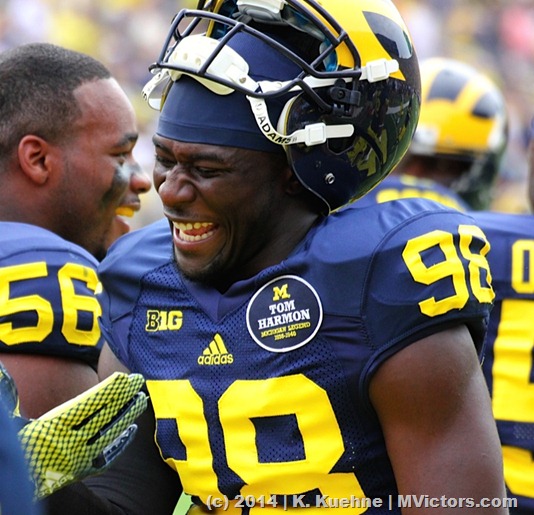 People needed an old school toilet-paper toss style beatdown on someone, and I guess it helped a weency bit that we dropped it on the source of our epic humiliation seven years ago. Still, we needed 48 more points to erase THE HORROR from memory and in fact, officially from the NCAA record books. Look it up.
Beyond that, I loved seeing the gaping holes in the line, it was great to see the #1 out there and there was genuine excitement when Peppers was on the field. Looks like Jake Ryan is still getting used to the position and we need to feel him more next week.
So the general sense out there—that was fun, but now let's block & run against a real team. Check back in Saturday night.
Historical Games Notes: Primarily via #1000SSS:
Michigan improved its record in season openers to an impressive 111-21-3.
With his three passing touchdowns, Gardner upped his career total to 37 and earned a share of the seventh spot among Michigan's all-time leaders in the category. He is tied with Todd Collins (1991-94). Gardner also moved to ninth among U-M's career leaders in total offense with 5,280 yards, passing Tom Brady (5,180, 1996-99).
It is the 38th time in program history that U-M boasted two or more 100-yard rushers in a single game.
Funchess is the first wide receiver in Michigan program history to boast three touchdown receptions in a season opener.
Also of note – today of course was the call for new radio crew of Dan Dierdorf and Jim Brandstatter.
Arena: As tweeted by Craig at HSR, re: the data graphics on the scoreboards: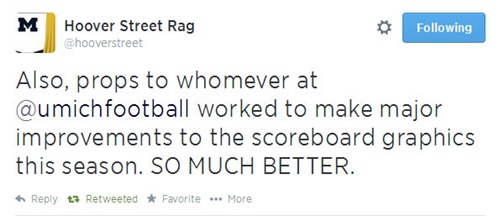 Agreed – a cleaner look, better data, way easier to read and understand.
Speaking of in stadium improvements, did anyone catch the real time 1050AM radio broadcast? How about the phone reception?
Mood Update: The Mood Index, the metric trying to gauge how great it is to be a Michigan Wolverine. Up:
Uniform Update: A few updates out there on Saturday:
Legends jerseys. Funchess swapped the #87 for the coveted #1 of course – details here – so #11 Wisterts, #21 Desmond Howard, and #87 Ron Kramer are currently on the shelf.
Under shell. Several of the players donned body shells under their jerseys – Team 135 on the left sleeve, Block M on the right. My take – many players wore these shirts when they first came out but took them off before game time. I assume they'll be more prominent when it cools down: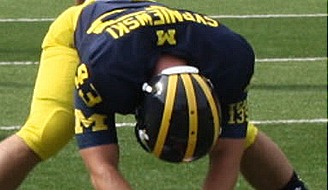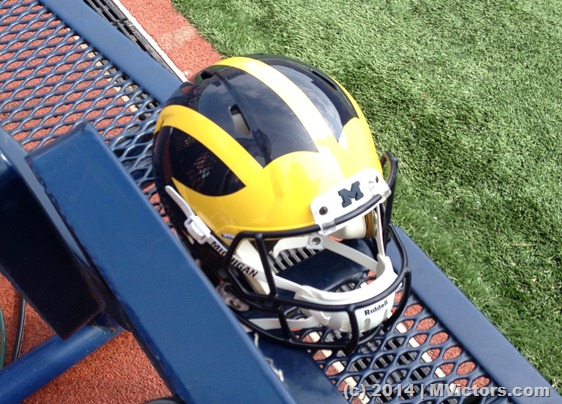 Wondering how they affixed that thing to the helmet and if/when one of them will pop off after a collision.
This is the first significant change to the nosebumper since the 1985 season when the MICHIGAN label replaced the name of the helmet vendor: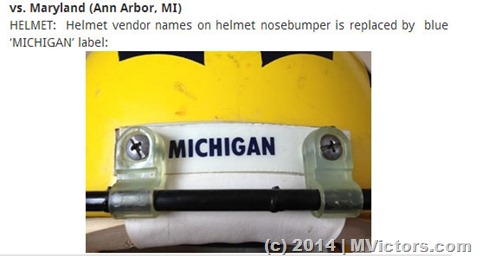 Sidenote: It did appear the shade of maize on the helmets (and only the helmets) was a tad darker this year. Discussed here.
Uniform Timeline updated.
Hagerup's kicks: FWIW: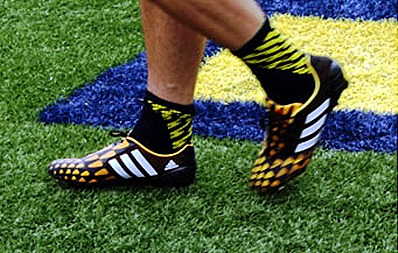 I'm calling you Chicken while looking cool: Nice — the folks at Carhartt poked a little fun at our buds in South Bend in this ad in the game program: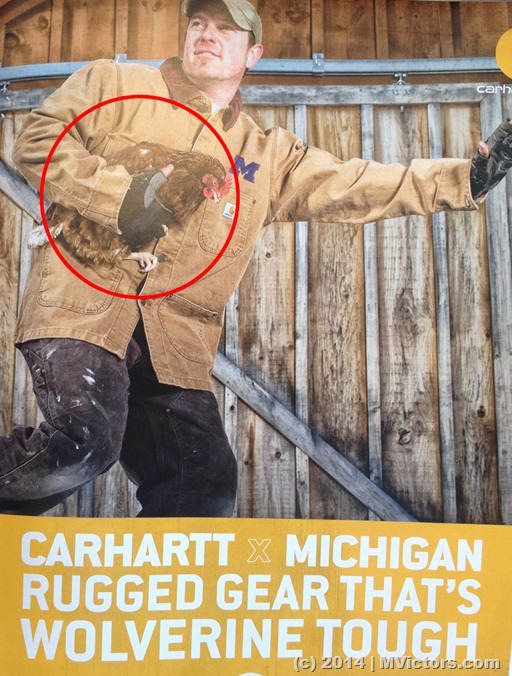 M Blogs Killing it:
mgoblog :
Appalachian State Postgame Presser: Brady Hoke
Ace's game recap:
Only two things came up as real concerns during the game. Jabrill Peppers missed the second half with an ankle injury; Brady Hoke confirmed after the game that his absence was precautionary, and he'll be back on the field next week for Notre Dame. Meanwhile, Jake Ryan looked uncomfortable at times at middle linebacker, getting overaggressive on run defense and allowing a big gain through the air when he didn't get enough depth on a zone drop. If your biggest defensive concern is Jake Ryan, however, your defense is in a very good place.
Maize and Blue Nation:
Game Recap
Pregame Photos
The Two 98s (sweet!):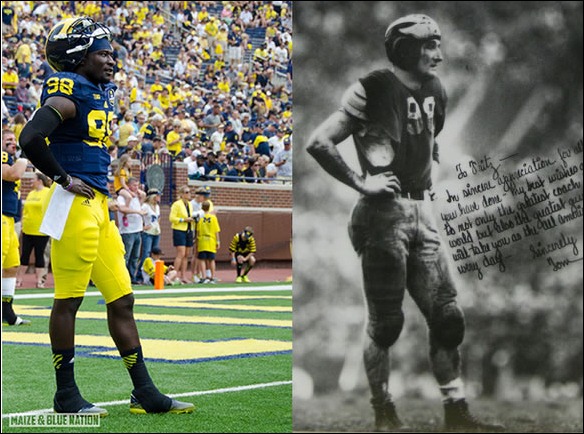 Maize N Brew:
Running game paces Michigan to 52-14 blowout
Michigan 52-App State 14: UM Wins Big In Opener
Maize and Blue News:
Five plays that Changed the Game
Related on MVictors:
Follow MVictors on Twitter