Son of a BISCUIT I want these guys to turn this around. It's a little odd to me because I still see the pieces of a decent team but the results are a wreck. Yesterday – with a the exception of a few breakdowns I thought the defense played pretty damn well (Jake Ryan – Manster. Jourdan Lewis – fun to watch). Derrick Green, when he was in there, looked like a seasoned back – he was patient and found the holes. And once again, we outgained our opponent yet failed to score a TD.
Gardner. I don't know what I'd do with 98. He's losing confidence with every interception – he's becoming more tentative and locking on. That's fine against Miami but we're not going to out-athlete the rest of the schedule. If you bench him now I just wonder if that's a point of no return for his confidence. So I guess there are a couple options?
1. Start Gardner with a limited playbook. It sucks to say that about a 5th year senior but sorry. Shorter passes with the occasional sideline heave to Funch, and he's got to run more. I'd encourage the big guy to take off for 5-7 yards more with more frequency. I feel like we're still on that treadmill of doing what we think a Michigan team should do, as opposed to what we could do with the players (namely 98) that we have.
2. Start Morris with a limited playbook. Mix in Gardner in the slot or in the backfield to mess with everybody and possibly get some of 98's confidence back.
But what do I know, man?
Other question – So we have a good if not darn good defense (take stats through 4 games for what they are worth, but we're #8 nationally), right? Why do we keep punting in the opponent's territory? Hagerup's been pretty bad, but the reason we are #123 (of 125) in net punting is that he's become Poocherup. Even if you take out the 66 yard punt return from the equation (after a bad punt and horrible coverage), we'd still be ranked in the 110s nationally. Dude.
A selection of the national rankings (yes, #124 is tied last on T/O margin, what up New Mexico?):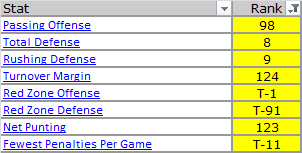 Either way don't mess with me – it's jug week and I need to see some of this next Saturday evening: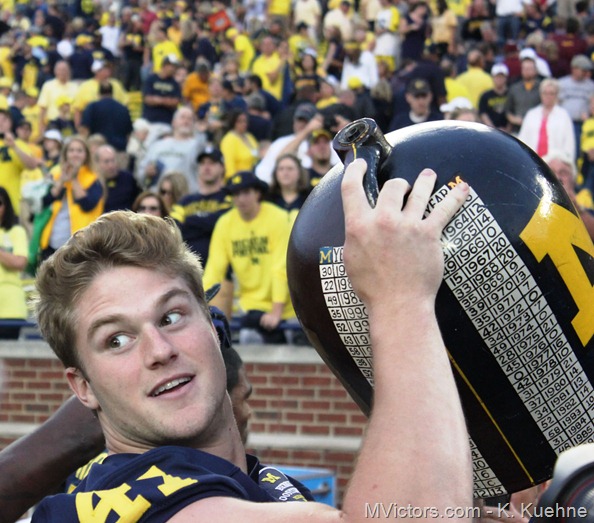 Arena: Yeesh – this is at kickoff.
And props to the students for catching a giant during halftime.
Pomp: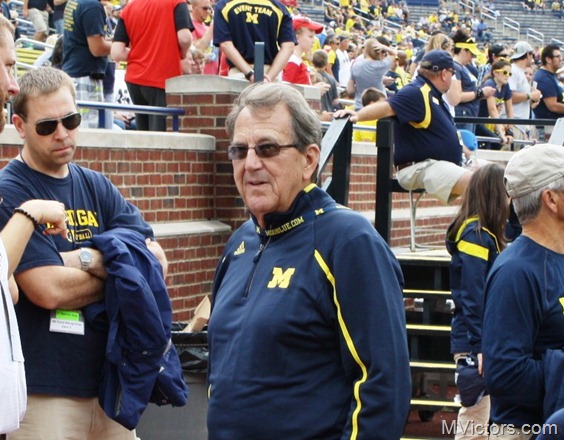 1999 championship team was honored for their 15th anniversary and that's of course LC prior to the game above. No sign of Tom Brady as expected. Lots of great memories that season and the 2000 Orange Bowl was one of the best games I've ever seen.
Chuck Ortmann was honored — and appeared to be a bit overwhelmed by the whole thing. Ortmann led the team in passing '48-'50 and most notably for me, delivered the most critical and epic punting punting performance in Michigan (if not football history in general) in the 1950 Snow Bowl.
The airshow was very cool, here a great shot from the north endzone via mgoblue: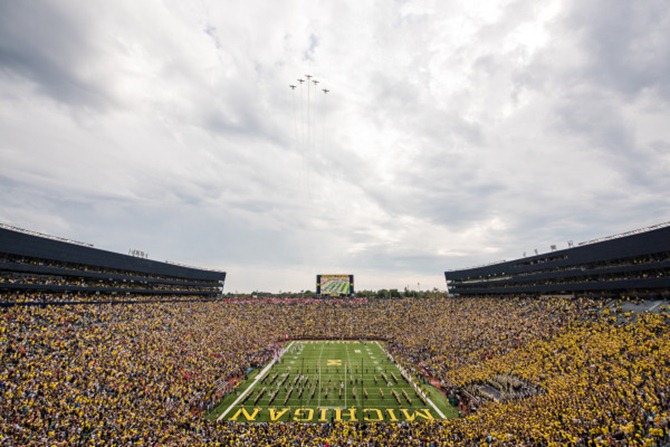 Matt at Maize and Blue News captured some on video:
Friendly Fire. While breaking down the game during the WTKA pregame show, Marcus Ray spotted former M man Cato June outside the tent and shouted "HEY! Is that fat Cato June??" This twit-blast ensued…and cut the pregame tension:
Mood Update: The Mood Index, the metric trying to gauge how great it is to be a Michigan Wolverine.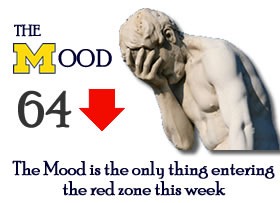 Uniform Update: Beyond a few notso "terrible towels" (see Sap's Decals), nothing to add out there. Uniform Timeline if you need it.
Historical Games Notes: Primarily via #1000SSS:
• With heavy rain and lightning in the area, the game was delayed, starting at 6:25 p.m., for two hours and 25 minutes with 7:51 remaining in the fourth quarter. Play resumed at 8:50 p.m. It was the first weather delay at Michigan Stadium since the shortened 2011 season opener against Western Michigan. That game was called with 1:27 remaining in the third quarter.
• The Wolverines have outgained their opponent in every game this season. [UGH!]
• Ryan led the Wolverines with a career-best 13 tackles. His previous best was 11, which he recorded on three occasions. Senior defensive end Brennen Beyer also posted a career high with six tackles, while sophomore defensive back Jourdan Lewis and junior defensive end Mario Ojemudia tied their career bests with five and four, respectively.
M Blogs Killing it:
mgoblog : Ace got clearance from the tower to jet with 8 minutes to go because he had a sock drawer to straighten out.
I don't know what will cure this team. This very well may be the last season of Hoke's Michigan career…I don't know. I can't even speculate about that right now. No matter what, he's going to be the coach for the next 8 games. They can still compete for the Big Ten title…as far as that does seem from a possibility. But I guarantee you it will be mentioned by Hoke in one way or another in the coming days.

Something drastic needs to happen to turn this thing around. You can't continue to blame the new scheme. This offense is broken. This problem is systemic. And it can't be cured in practice or in just a week. This could be a very long season for Michigan.
Brad gathered up the collective blograge as well; always a fun read :(
Maize and Blue News: Players in postgame, ugh.
Follow MVictors on Twitter