Here are the Decal Champions for week eight by Steve "Dr. Sap" Sapardanis: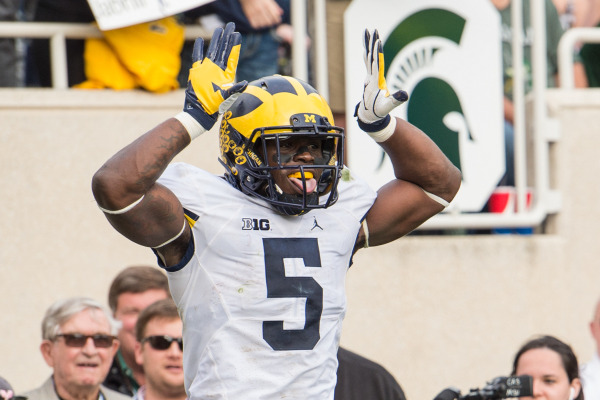 George Perles used to say, "all games count one." Not this one and not for the reason you might think. Not only did Michigan put another nail in the Spartan coffin, they made it real difficult if not unlikely for the Spartans to become bowl eligible.   This would also mean MSU will not have those 15 bowl practices which are critical for player development and evaluation.  Sucks to be Sparty!
OFFENSIVE CHAMPION – If your receiver has a career day and makes crazy-tough, one-handed catches then that means your quarterback is making some crazy-clutch throws. Amara Darboh and Wilton Speight are starting to be like The Hawaiian War Chant and Temptation – you can't have one without the other. If Michigan is going to be playing in January, #82 and #3 need to keep it up.


DEFENSIVE CHAMPION – Gotta go with two guys: Jourdan Lewis & Jabrill Peppers. Lewis, because he single-handedly stopped two drives – one with an INT and one with a fourth down tackle at the UM goalline. Peppers, because of what he did all over the field and particularly the fourth down sack late in the game. Of course the 2-point conversion "Oh he has trouble with the pitch" play was the perfect exclamation point put on by the perfect guy to do it! PERFECT!!!!!
SPECIAL TEAMS CHAMPION – When your kicker makes all three of his field goals, has a solid day punting, and booms almost every kickoff into the endzone, your opponent has to go a long way to score. Credit Kenny Allen for having a solid game. Michigan was solid in all three phases of the game. That is Championship-esque.
COACHING CHAMPION – This game was a Jim Harbaugh special. Hotly contested. Paint-swapping in the trenches. A true test of a player's, a team's and coach's will. That's why I think most of the game was played between the tackles. Both coaches wanted to impose their will on each other and that was fine with coach Harbaugh. He had his team ready. They weren't too jacked up nor were they too tight at the start of the game.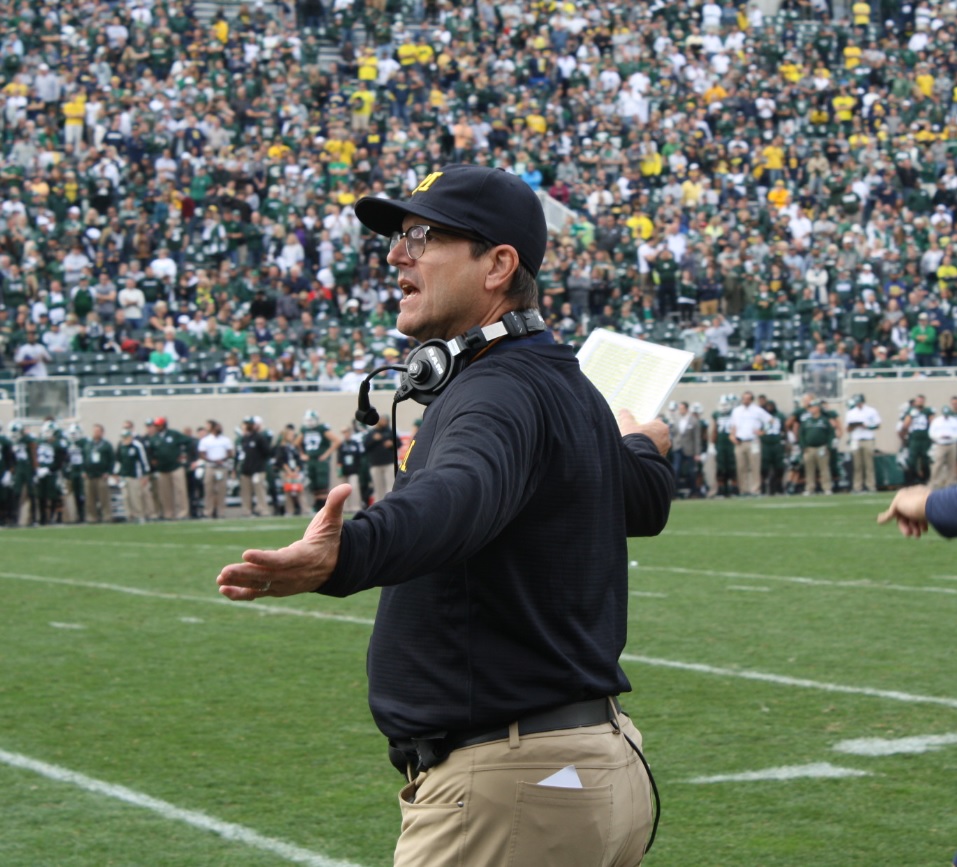 Amazing how far this team has come and changed in just over a season and a half. One word – Harbaugh. Last year he taught the team how to win. This year he is teaching them how to be tough and never was this more emphatically demonstrated than each time an MSU player was helped off the field. Remember when that happened to Michigan and Devin Gardner a few years ago in East Lansing? Times have changed. Tables have turned. Consider the Sparty chip knocked off their collective shoulders. Ain't no big thang!!
UNIFORM CHAMPION – I like the white Jumpman Towel the team is wearing on the road. Curious as to why Michigan has only been using white towels, I found out that the NCAA only allows white or pink. Leave it to the NCAA to restrict and legislate something as simple as a towel.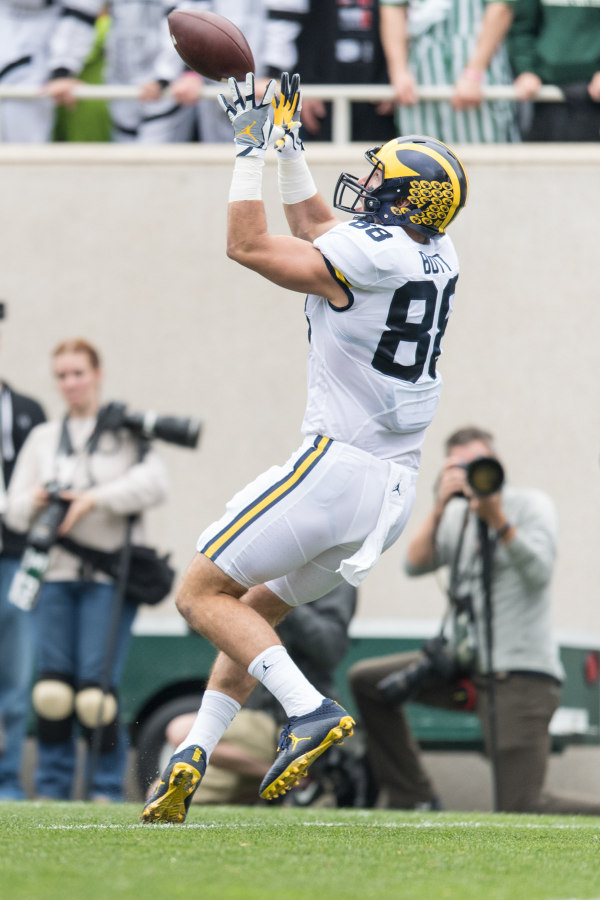 The coolest towel ever worn by a Wolverine? Easy. The one Rick Leach wore in the 1978 Rose Bowl: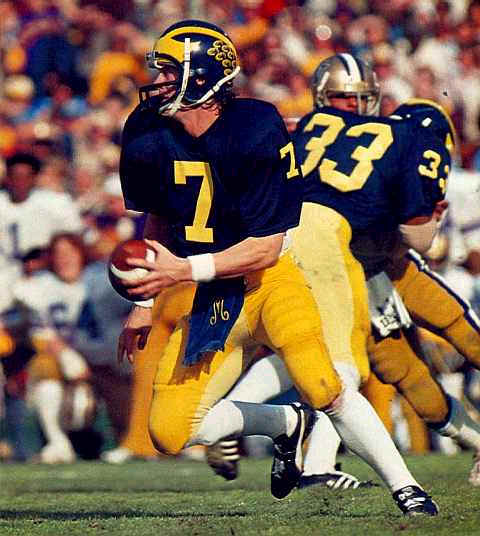 Follow Dr. Sap on Twitter!
Follow MVictors on Twitter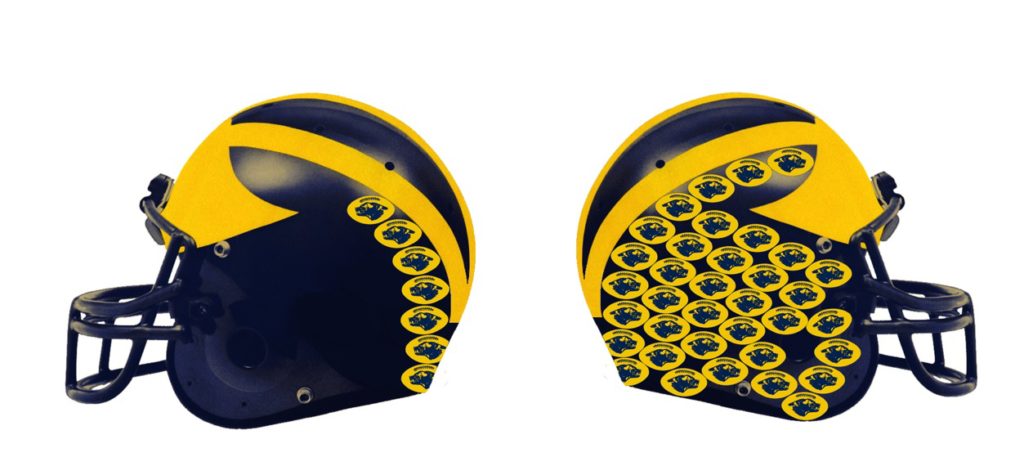 Week 1:  Chris Evans (Offense), D: Mike McCray (Defense), Jabrill Peppers (Special Teams), Don Brown (Coach), Michigan helmet (Uniform)
Week 2:  Wilton Speight (O), Jabrill Peppers (O), Tyree Kinnel/Chris Wormley (ST), Chris Partridge (C), Soles of shoes (Uni)
Week 3: Jake Butt (O), Jabrill Peppers (D), Jabrill Peppers (ST), Don Brown (C), Helmet Stickers (Uni)
Week 4: De'Veon Smith (O), Maurice Hurst (D), Kenny Allen (ST), Greg Mattison (C), #26 White Shoe Laces (Uni)
Week 5: Wilton Speight & Amara Darboh (O), Channing Stribling (D), Jourdan Lewis (ST), Jay Harbaugh (C), Jumpman do-rag (Uni)
Week 6: Jabrill Peppers (O), (D), (ST), Entire Staff (C), White socks (Uni)
Week 7: Khalid Hill (O), Rashan Gary (D), Khaleke Hudson (ST), Coach Tyrone Wheatley (C), blue socks (Uni)
Week 8: Amarah Darboh and Wilton Speight (O), Jabrill Peppers and Jourdan Lewis (D), Kenny Allen (ST), Jim Harbaugh (C), white Jumpman Towels (Uni)