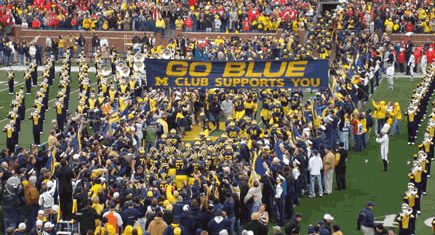 Hundreds of former Michigan football letterman took the field prior to the Michigan-Ohio State game a few weeks ago, Among those men were a few names you know: Rick Leach, Jon Jansen, Brian Griese. The majority of the mass that formed the lane from the tunnel to the sideline was made up of folks that you may not know. These men form a rock solid foundation of former Michigan letter-winners that will not fade, even during lower points in Michigan history such as the 2007 season and this whole coaching search mess.
These guys all have stories to tell but you won't hear them on WTKA before the games or read books about their experiences in Michigan stadium.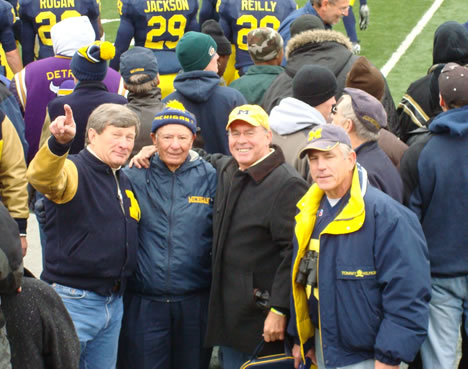 One of those letter winners on that field was Dr. Barry Dehlin who earned three letters under Bump Elliott in the 1960s. I found him on the sideline prior to the game chatting it up with old teammates (he's third from the left in the photo above in the maize M hat). He practices medicine today in mid-Michigan. For every Rick Leach there were dozens of Dehlins on that sideline. While most of these former players don't have space dedicated to them inside Schembechler Hall, you can bet they penned many of the letters to Bill Martin voicing their concern on the coaching search. In one way or another these men contributed to the rich tradition to which we owe so much today.
While not one of the most memorable seasons in Michigan history, Dehlin's 1966 Wolverines traveled to Columbus face the Buckeyes. If you thought Dehlin went to Ohio as a role player, think again. You should know that on that November day he led the Wolverines with 12 tackles as Michigan defeated Woody Hayes and the Buckeyes 17-3: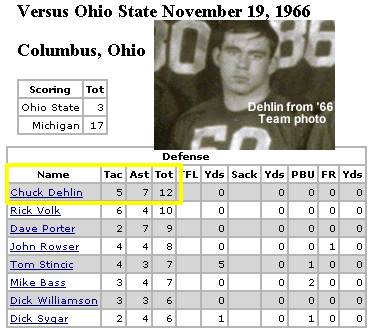 I caught up with Dr. Dehlin and asked about memories from his that big game, his last in a Michigan uniform. "I was calling defensive signals and did lead the team in tackles. I thought Ohio State was very strong but we were quicker", he recalled. "When I was replaced and coming off the field I realized that it was for the last time."
As for the 1966 team, which finished 6-4 and tied for third in the Big Ten, Dehlin told me that "we had a pretty good team that had some bad luck that year."
He would know a good Michigan team. Dehlin was part of the 1964 Rose Bowl champion team that just missed running the table. "We only lost one game to Purdue who were led by Bob Griese. We went for a 2 point conversion and lost 21-20. We ended up 4th in the nation." Sidenote: That's the last time Purdue's beaten Michigan in Ann Arbor, tallying 15 straight losses in the Big House since.
That great team and Michigan football in the late 50s and 60s were pretty much ignored by the HBO special 'The Rivalry'. The documentary defined that period by Woody and as a pre-cursor to Bo Schembechler taking over. Dehlin wasn't too happy with the omission, "They skipped our team. We had to beat Ohio State [in 1964] to go to the Rose Bowl. We were snubbed."