[Ed. Steve "Dr. Sap" Sapardanis is featured here each postgame with Dr. Sap's Decals. You might know that his detailed knowledge of uniform tweaks since the Bo era helped spearhead the Uniform Timeline. Bottom line – the Sap mind blended with the Sap archives is a Wangler-to-Carter-esque combination. Here's another great Bo-era story from the mind of Sap.]
Guest post by Steve "Dr. Sap" Sapardanis
Nowadays it's commonplace for quarterbacks to wear red (or sometimes orange, /wink) colored jerseys in practice. This of course is a reminder to all players and coaches that they are not to be hit or tackled in drills. Last year, former Michigan quarterback Rick Leach told me that he never wore a redshirt at practice during his four years as Michigan's man under center. I was shocked to hear that, especially when you consider two things: 1. Bo liked to hit in practice as much as possible and; 2. Leach ran Bo's option offense and got hit quite a bit carrying and pitching the ball.
So all this got me thinking – who was the first QB to wear a redshirt at practice for Bo? I know it wasn't Tom Slade shown here at practice in 1972: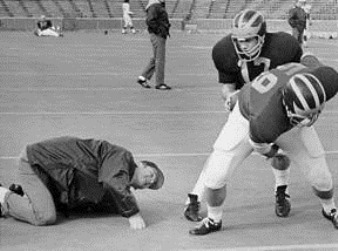 And like Leach said, no redshirts here in 1976 when President Ford dropped by to see the Wolverines at practice: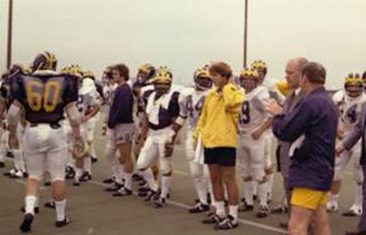 Or in 1977 when the Prez popped in again: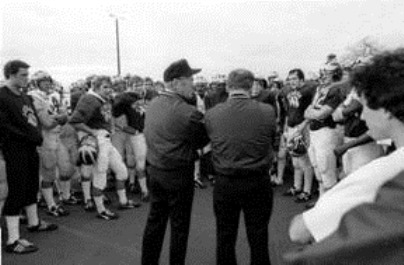 Here's Michael Taylor and Elvis Grbac in 1989, but I knew it didn't start with them: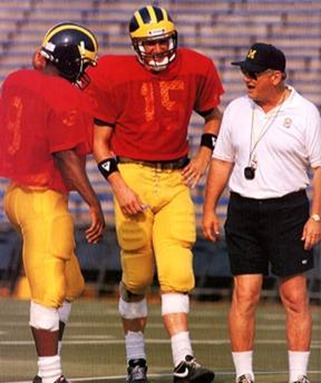 I knew Taylor & Grbac weren't the first because I saw this on Michigan Replay:

That's Jim Harbaugh and Chris Zurbrugg under center wearing red tunics during Spring Practice in 1985.
Legendary U-M equipment manager Jon Falk told me that the QBs wore the red tunics only during scrimmages in the mid 80s. I asked Big Jon if Steve Smith wore a redshirt in 1983 after he separated his shoulder in the 1983 Rose Bowl. He did not recall Smitty wearing a redshirt, but remembered him wearing a harness underneath his shoulder pads to keep his shoulder in place. That was a serious injury – especially for a QB. So I thought, if it wasn't Smith, it must have been…..John Wangler.
"[Wangler] just came off a very bad knee injury and we wanted to make sure he could take hits," Falk recalled.
That injury was thanks to Lawrence Taylor, who pounded Wangler's knee In the 2nd quarter of the 1979 Gator Bowl. I remembered Wangs being held out of spring practice in 1980, but did he wear a redshirt when he finally rehabbed his knee and returned to practice in the fall?
"Well, actually, I didn't wear a redshirt during the season," Wangler told me. "I wore one during two-a-days in the fall of 1980. But even though I had the redshirt on, it didn't stop my good friend Mel Owens from tackling me one time at practice!" [laughs]
Former Michigan assistant and longtime West Virginia head coach Don Nehlen told me that because Bo had his guys going all out in practice, the only way he could get them to stop, when he wanted them to stop, was to use a short whistle. Wangler confirmed this. "He would use that short whistle to make sure you didn't get hit hard. I mean there would be some contact, and guys could wrap up, but he would limit the hard hitting with his whistle."
So in lieu of having his quarterbacks look like prima donnas by wearing different colored jerseys, that's what the General had used for all those years to protect his quarterback – a short whistle.
After finding all that out, I had one last question for old #5– Did ALL the QB's wear a redshirt during two-a-days in 1980, or was it just him because of the knee injury?
Wangler's response?
"Just me. The other guys were a lot tougher!"
———————————————
Follow MVictors on Twitter